If 40-50% of Vietnamese firms continue to produce catfish fillet of such bad quality like now, their seafood will soon not only be banned into many countries but boycotted by local consumers, warned an expert at a conference on measures to enhance catfish's quality in Ho Chi Minh City on Jan. 21.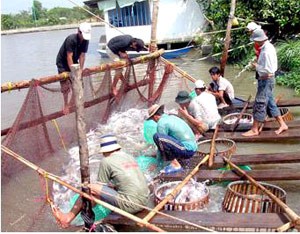 A tra catfish farm in Can Tho City's Thot Not District.
Ph.D. Nguyen Huu Dung, vice president of the Association of Seafood Exporters and Producers, said the qualify of Vietnamese catfish fillet was found worst in terms of contents of water and protein according to a research conducted by a German university a year ago.
This research revealed Vietnamese catfish fillet samples contained 82.3 percent of water, which is too high, and 13.8 percent of protein, too low compared to other countries.
Chairing the conference, deputy minister of the Agriculture and Rural Development Luong Le Phuong asked the National Fisheries Quality Assurance and Veterinary Directorate (NAFIQAVED) to tighten its control over processing establishments and mete out strict punishments to catfish exporters who engaged in frauds.
Such acts would spoil the prestige of Viet Nam's catfish - one of the country's export staples, Phuong added.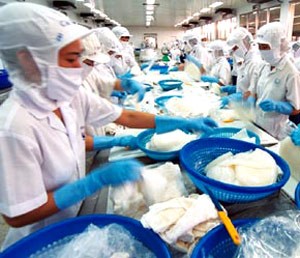 Processing tra catfish for export
Robust growth
Ngo Phuoc Hau, chairman of the Association of Seafood Exporters and Producers (VASEP), reported Tra catfish stands first in export volume and second in turnover after shrimp.
In 2007, Viet Nam earned US$1 billion from exporting a record 400,000 tons of catfish fillet, an increase of 34.4 percent over 2006.
The sector expects to process 1.2 million tons of catfish for export to earn US$1.2 million in 2008.
When the US Department of Commerce raised the anti-dumping tax on catfish imported from Viet Nam from 36 percent to 64 percent in 2003, it was thought that the Vietnamese catfish exports would "die" as the US at the time consumed 90 percent of Vietnamese catfish export.
However, this had in silver lining in that it encouraged Vietnamese exporters to seek new markets.
After four years, major markets for Viet Nam's tra and basa catfish have changed, with the US representing only 6.9 percent of total turnover while the European Union tops the list, accounting for 48 percent, followed by Russia with 9.2 percent, ASEAN countries 7.9 percent, China 4 percent, and Australia 3.9 percent.