Vietnam is now a coffee export partner with more than 80 nations and territories around the world including many traditional markets such as Germany, the US, and Spain, according to the Vietnam Coffee and Cacao Association (VICOFA).
VICOFA held a meeting in HCM City on April 9 to review business activities in the 2008-2010 tenure and devise orientations for the next tenure.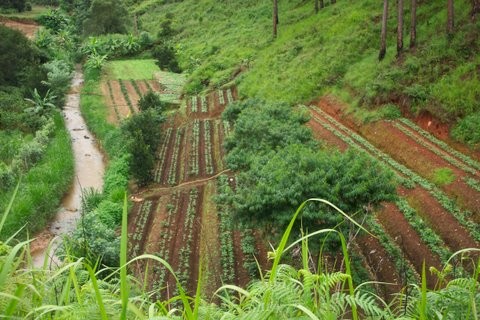 Terraced Coffee Plants in Vietnam
According to the association, Vietnam exports around 1 million tonnes of coffee on average, with a export turnover of roughly US$2 billion, making up over 8 percent of the agricultural sector's exports.
In the 2008-2010 tenure, VICOFA played an active role in linking production and consumption and contributed to the coffee sector's sustainable development policies.
From now to 2013, the coffee sector will face many challenges such as climate change, and price fluctuations which have affected the country's coffee business.
VICOFA will focus on maintaining a coffee cultivation area of 500,000 hectares with an output of more than 1.1 million tonnes per year, holding a 15 percent share of the world's coffee export market and promoting cooperation with major coffee growing nations in the world.
Priority Investment for 500,000 ha of coffee
Chairman of the Vietnam Coffee and Cacao Association (VICOFA) Luong Van Tu informed that the price of coffee is high at present, in London market : Robusta coffee US$2,600 / ton. Experts anticipate that the high price still remains high until the end of the drop…
However in the long terms, coffee producing has to face many difficulties : the area for growing old coffee trees is now 137,000 ha and has to be replaced within 10 years'time…This needs large capital and has to be done step by step..
The Chairman warned that if the re-cultivating job is not done well, the quantity of coffee production is severely reduced in the coming period. Thus, it is necessary to plan and stabilize the area for coffee tree cultivating around 500,000 ha, keeping the production from 1 to 1.2 million tons / per crop and setting a balance production between Robusta and Aribica ( grown in the high land area with the price 3 times more expensive than Robusta coffee), Tu said.