Vietnamese consumers have of late turned their backs on Chinese commodities, especially fresh foods, due to substandard quality.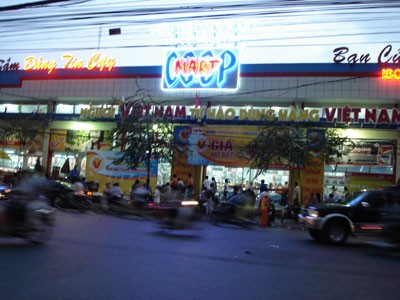 Saigon Co.opMart does not sell vegetables brought in from China any more (Photo: U. Phuong)
Nguyen Thanh Ha, deputy head of a management company in Thu Duc wholesale market, remembers how in May around 1,300 tons of vegetables and fruits were brought into the market. In Hoc Mon wholesale market, around 100 tons of vegetables and fruits such as carrots, garlic and potatoes were brought in every night. All these commodities were from China.
But the situation has changed now. In Thu Duc market these days, some 1,600 tons of vegetables and fruits enter the market but only around 150 tons are of Chinese origin.
Nguyen Dang Phu, deputy director of the Management Company of Binh Dien wholesale market in District 8, said very few items are now from China.
A trader couple Binh-Thoa in Van Thanh Market said that for five years they have refused to sell Chinese commodities because of high insecticides, even though they earned lower income.
Traders also help consumers distinguish between Vietnamese produce and Chinese commodities; for instance, Chinese fruit looks bigger or ginger has bigger bulbs and shinier skin than the Vietnamese produce. Nevertheless, its taste after cooking is worse than Vietnamese produce.
Saigon Co.opMart said its chain does not sell potatoes brought in from China any more. Nguyen Thi Hanh, Director of Saigon Co.opMart, said for years they did not announce sale of Chinese fruits and Korean waste chicken for fear of contamination.
All vegetables and fruits in the market are from cooperatives in Da Lat such as Anh Dao, Phong Phu and Thao Nguyen and all commodities meet VietGap standards. After the supermarket announced a tie-up with cooperatives and farms in the country, consumption increased drastically.