The Vietnamese electronics industry is struggling to survive since its products are no longer popular and cannot match foreign brands.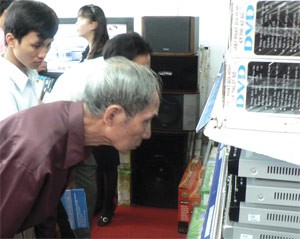 Shoppers check out locally made televisions and DVD players at an electronic and electrical fair in September 2009. Vietnamese electronics makers are finding survival a hard task in the face of the onslaught by giant foreign rivals.(Photo: SGGP)
In the 1990s, under the Government's protection policy, the electronics industry had made great progress, growing at 20-30 percent a year and exporting products to 35 countries. Exports grew from US$90 million in 1996 to $1.5 billion in 2005.
 
But now the industry is struggling to sell even at home.
 
Vietnamese companies imported Chinese parts, assembled them in the country, and stuck their labels on them.
 
But the profit from a 21-inch television is a mere VND20,000 and to survive many companies switched to assembling karaoke players, speakers, amplifiers, and DVD players.
 
But gradually these products too lost their popularity due to their poor quality and design and lost their market to Japanese, Korean, and Chinese products.
 
Most local companies have an assembling capacity of just a few thousand units a year and they do not focus on key products, having their fingers, instead, in a variety of products.
 
Another problem is that the domestic parts industry has developed slowly and is unable to supply components for assembling. Most electronic goods have only 5-10 percent Vietnamese content.
 
Switching business
 
Viettronics Tan Binh (VTB) is building a factory to manufacture washing machines and refrigerators with an annual capacity of 70,000 units. It is scheduled to go into operation in 2010.
 
Viettronics Bien Hoa (Belco) director Do Khoa Tan said his company is focusing on manufacturing low-priced desktop computers, amplifiers, and speakers meant for northern mountainous, central coastal, and Mekong Delta provinces.
 
Duong Minh, director of Thu Duc Electronics Corporation, said electronics companies are finding ways to survive by making new products and businesses, with some of them also cooperating with foreign producers or subcontracting work for larger firms.
 
In this transitional period, the firms have to neglect their traditional products to focus on other profitable products and services like property and securities, he added.
 
VTB general director Ngo Van Vi said his company plans to build an office building on Pham Van Hai Street in Ho Chi Minh City's Tan Binh District.
 
Its cost, at thousands of billions of dong, is much higher than the amount the company has invested in electronic production.