Dominating the bus ticket market
This year Tet holiday, thousands of students in Ho Chi Minh City have a chance to return home to reunite with their families with free tickets that are scholarships from the program of "Ticket of implementing the dream in university".
The initiative of this program is Vexere (Vexere Joint Stock Company) - a start-up company that has been operating for less than five years but it has occupied 20 percent of the market share of long-distance bus tickets.
Vexere was established in 2003, but it took four years of breeding at the High-Tech Business Incubator. At the beginning, Vexere system only integrated with 40 transportation enterprises to provide promotion tickets for candidates to attend university entrance exams in Ho Chi Minh City.
With the advantages of applying cyber space technology and solutions to benefit the transportation companies, Vexere system quickly connected with 300 travel operators with in capital city of Hanoi and Ho Chi Minh City, accounting for 10 percent of the total number of transportation operators nationwide.
In 2017, nearly 150,000 tickets were sold daily through Vexere system, equaled 20 percent of the total tickets on sale in the market. With the growth, the application runners boldly graduated from breeding ground to start its own business.
The idea of online ticket system was nurtured by Tran Nguyen Le Van - Vexere founder since he was studying Master in business administration in the United States in 2012. At that time, he felt homesick and surfed the Internet seeing full of images of people waiting in line to buy tickets for Tet holidays so Le Van decided to stop his MBA degree at Thunderbird University in the United States to come back Vietnam and pursue his aspirations of revolutionizing the passenger car industry.
Previously, Le Van, a poor student, had dropped out the University of Technology under the National University - Ho Chi Minh City.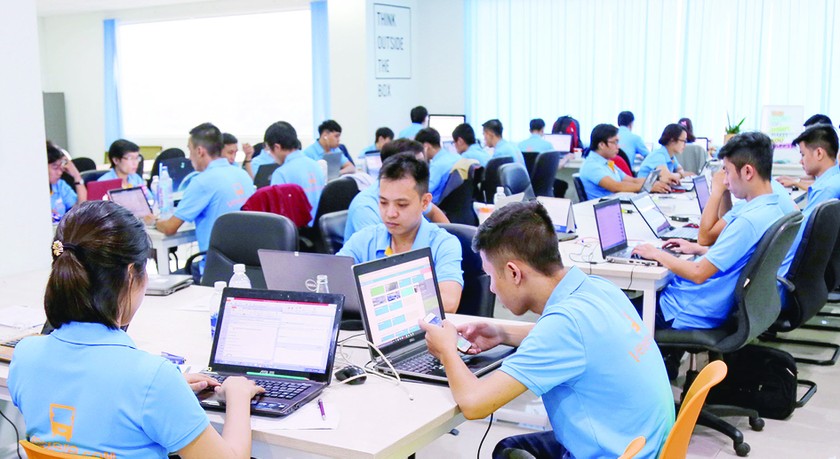 Many projects have been failed before Vexere. For transportation companies, Vexere shows that the software made the ticket prices more competitive than traditional payment method. For employees, Vexere had persuaded them that the software can still balance the interests of both parties. For example, when the transportation businesses controlled the loss, their income would be higher. That is solving the rights problem other than solving technology problems, said Luong Ngoc Long, Vexere's technology chief.
The involvement of the technology is helping to optimize profits for the transportation operators, but it also helps millions of rural residents to easily buy bus tickets during the holidays.
Additionally, users have the right to evaluate the quality of the trip right on the software.
Vietnamese laser skin care machine
More and more people are willing to spend thousands of US dollars to go abroad for beauty treatments. In Vietnam, more and more beauty salons are opened every year so the market for imported cosmetic equipment is more exciting. High machinery prices triggering part of the reasons why the beauty costs are not cheap.
Seeing the potential market in Vietnam, Mr. Luong Vu Dang Quang decided to return to hometown to set up Lascitec Company. Previously, Quang had graduated from a university in Vietnam and went to South Korea to work as a high- tech employee .
He took on research - development (R&D) for a beauty equipment manufacturing company is a great opportunity for him to gain experience.
At the breeding ground, Dang Quang and colleagues of Lascitec focused on researching and developing a CO2 surgery laser machine at a wavelength of 10.60 μm for skin regeneration and removal. This is a new technology with international standards and is widely used in developed countries like the United States and South Korea.
The product was tested at the Department of Dermatology of Military Hospital 108 in Hanoi, some clinics and skin care centers.
The cosmetic surgeons highly appreciated the effectiveness of the product in the treatment of acne scars, surgical scars, burns as well as skin regeneration. Similar foreign products cost about US$ 18,000 - 22,000 while the company's products are half price about US$ 12,000 - 13,000.
Mr. Dang Quang excitedly said that the products is expected to make up 35 percent of the market share of beauty laser machines in Vietnam.
At this time, Dang Quang and his colleagues began to research and produce pigment laser systems to treat dark spots, eczema or tattoo removal with the aim of further encroaching on the field of supplying cosmetic equipment.
According to Associate Professor, Dr. Le Hoai Quoc, Head of Board of Management of Saigon Hi-Tech Park, Lascitec's direct incubator unit, the market for beauty products applied science and technology would develop strongly in the future.
Vietnamese technology solutions such as Lascitec will grow stronger in this potential field, he added.