After shunning the rural market for long because of low margins and the time taken to break even, Vietnamese enterprises have started to realize its importance after gradually losing export markets due to the global crisis.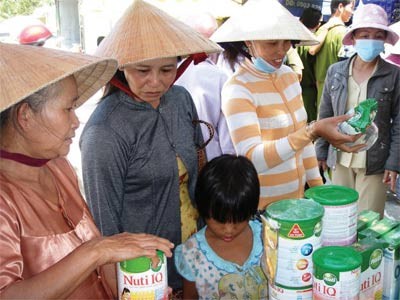 Customers buy Vietnamese-made milk powder at a fair in Tam Binh District in the Mekong Delta province of Vinh Long (Photo: SGGP)
Le Van Loc, deputy general director of dairy firm Nutifood, told a recent conference that rural areas are a promising market with over 70 percent of the country's population but companies have been indifferent to them for long.
 
Since goods sold here must be cheap and would only generate small margins, it requires companies to be patient and have a long-term business strategy and a large sales force, he said.
 
Usually, firms consider the high initial costs and low margins when entering the market and give up, allowing in a flood of illegal imports, he added.
 
But on the other hand, many famous foreign cosmetic, beverage, and other brands like Unilever, Procter & Gamble, Coca-cola, and Ajinomoto, realized the rural market's potential long ago.
 
So, soon after entering Vietnam, they began to set up nationwide distribution systems and train sales forces and managers in every area.
 
More and more local enterprises are now joining a program titled "Bringing Vietnamese foods to rural areas" under which consumer fairs are held in the countryside.
 
They have to sell their goods at cost prices while spending a lot of money on transportation, after-sales service, and promotions, but many are persisting.
 
Many have also appointed distributors in rural areas.