The Ministry of Agriculture and Rural Development yesterday reported that Vietnamese fruit export reached US$186 million in November, bringing total export value of the commodity in 11 months to US$2.178 billion.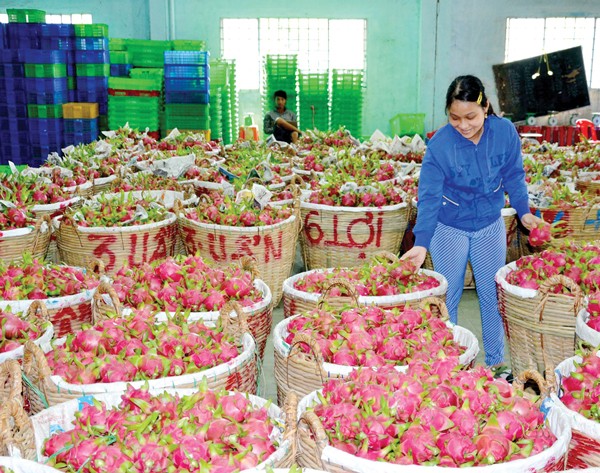 Dragon fruits for exports (Photo: SGGP)
Major markets for Vietnamese exports are China with 70.4 percent, South Korea with 3.6 percent, the US with 3.4 percent and Japan with 3.1 percent. Turnover of fruit export is expected to  exceed that of rice rice to become the nation's major commodity for export - an impressive achievement for the fruit and vegetable sector.

The Ministry asserted that fruit export has the fastest growth rate amongst agricultural produces and ranks the third in the nine agriculture-forestry-fishery produce list with high value.  Meantime, amongst 29 Vietnamese-grown tropical fruits for export, dragon fruit tops the list with export turnover of US$700 million, accounting for 50 percent of total export value. Longan and watermelon also have impressive growth rate for exports.

In the last months of the year, fruit export sector receives a good new that mangosteen and litchi have been accepted to enter the US and Australia markets respectively. In the future, shipments of fruits like dragon fruit, rambutan, longan, litchi, and mangosteen have since increased on an annual basis into potential markets such as the US, Japan, South Korea, head of the Plant Protection Department under the Ministry of Agriculture and Rural Development Hoang Trung said.
Currently, Vietnamese fruits have won over consumers in many countries. Next time, Vietnamese mango and star apple will be sold in the US market meanwhile lychee was allowed to enter Australia and next mango and dragon fruit will enter this market. Japanese consumers now can eat Vietnamese mango and dragon fruits.

Director of Chanh Thu Exporter in the Mekong delta province of Ben Tre Ms. Nguyen Thi Hong Thu said that there have been positive signs for the Vietnamese fruit export market. Yet fruits must achieve GlobalGap or VietGap to be able to enter the US, or EU markets.

In its planning for fruit export growth, the Ministry concentrates on 12 major fruits including dragon fruit, mango, rambutan, durian, star apple, grape fruit, longan, banana, pineapple, orange, custard-apple, and tangerine.
Total orchards with the vision to 2020 will be 257,000 hectare, accounting for 52 percent total areas for planting fruits in the southern provinces; the Mekong delta will have 185,000 hectare orchards and the South East will have 72,000 hectare orchards. To achieve the target, experts said that the government should offer favorable condition for enterprises and proper policies to benefit farmers.

For past time, many areas in the Mekong delta specializing in specific fruits include Hoa Loc mango grown in Tien Giang Province and Can Tho City, Chu mango in Dong Thap Province; pomelo Nam Roi in Vinh Long, Hau Giang, Soc Trang provinces; dark blue skin pomelo in Ben Tre; mandarin in Lai Vung District in Dong Thap Province; dragon fruit in Tien Giang, Long An; star apples grown in Lo Ren-Vinh Kim in Tien Giang Province. Additionally, quality and productivity were improved thanks to application of technology.

However, Vietnamese fruit export faced difficulties including quarantine and food safety regulation.
Le Van Banh, head of the Department of Processing and Trade for Agro-Forestry-Fisheries Products and Salt Production under the agriculture ministry, said that it needs to perform radiation treatment and growing fruits as per international standards such as GlobalGap.
In addition, it should plan cultivation areas for each market and farm address according to regulation as well as form domestic consumption chains and meet export demand, said Banh.