Fruit exports to the US will include dragonfruit as well as longan and rambutan, agricultural officials have said.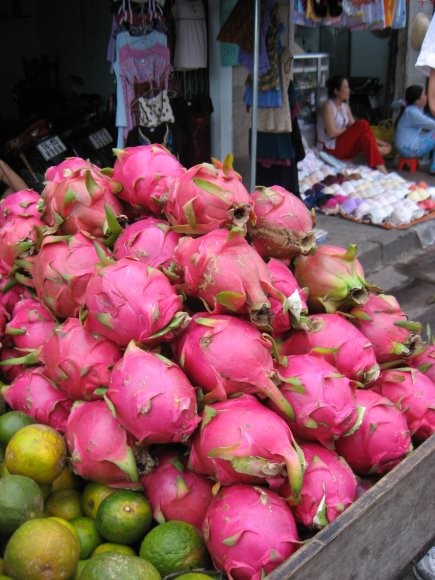 Dragonfruits on sale in Ho Chi Minh City
Pham Ngoc Lieu, deputy director of the Southern Fruit Research Institute, said US Department of Agriculture officials in a recent visit to Vietnam said more than 10 kinds of fruit would be imported, with the first being dragonfruit and then longan and rambutan.
Nguyen Minh Chau, director of the Southern Fruit Research Institute, said to enter the US market these two kinds of fruit must meet Global Good Agricultural Practices (GAP) certificates.
The US department has asked the southern institute to assist the Mekong Delta fruit farmers to apply the GAP standards in the production process.
The institute plans to transfer technology to farmers to help meet GAP standards, which should take about a year, Chau said.
Vietnam has more than 60,000 ha devoted to longan cultivation and another 60,000 ha for rambutan. Agricultural experts said the rambutan and longan yield was higher than dragonfruit and also more profitable.
Tan My Chanh Industrial Park in the Mekong Delta province of Tien Giang recently exported 1,000 tonnes of rambutan to the Republic of Korea and to the US to test demand.
Nguyen Van Phong, deputy chairman of Tien Giang provincial People's Committee, said the response was favourable and that exports would begin after a committee is set up to help achieve GAP standards.
The provincial authorities will provide funding and agronomists will help farmers meet GAP standards.
The neighbouring province of Ben Tre will also export the fruit as well. Chau said Vietnam exports about 15 percent of its total fruit output. However, only 2.5 percent of that accounts for processed fruit.