The Vietnamese High Quality Exported Goods Fair opened Thursday at Mondial Center in Phnom Penh.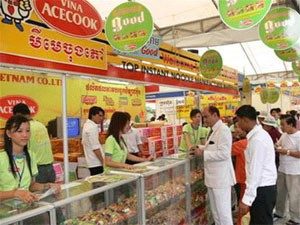 The fair presents high quality products of 150 Vietnamese firms to Cambodian
The annual fair is expected to strengthen solidarity between Viet Nam and Cambodia, promote cultural exchange between the two countries, and boost trade between Ho Chi Minh and Phnom Penh.
The fair attracted 150 Vietnamese firms and hosted 300 booths.
The fair includes a road show of Vietnamese goods at two venues: VietGoods agent office at Phnom Penh over Sept. 16-17 and Central Park of Battambang Province over Sept. 20-21. There will be a conference entitled Biz Matching to allow Vietnamese and Cambodian firms to meet and discuss the trade between two countries on Sept. 20.
A consumer survey will be carried out in Cambodian cities of Phnom Penh, Battambang, Poipet and Siem Reap as well as the Prachinpuri, a province in eastern Thailand on Sept. 20-22.
The fair will last until Sept. 22.