The Politburo approved a program to encourage people to consume Vietnamese goods but it appears to be a difficult task since they are not as popular as imports.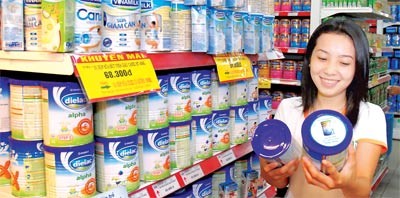 A shopper buys domestically-made formula milk at Co.op Mart supermarket on Ly Thuong Kiet Street, in HCMC's District 10 (Photo: SGGP)
A survey by Sai Gon Giai Phong of two wholesales markets in Ho Chi Minh City - Binh Tay, District 6, and An Dong, District 5 - and Co.op Mart, Big C, MaxiMark and Citimark supermarkets found them selling an array of domestically-made goods that are cheaper than imports but still not as popular with consumers.

Though Binh Tay market sells the most imported goods, Vietnamese goods are still the majority of produce and products.

Huynh Quoc Bao, a member of the market's management board, said 100 percent of fresh foods and handicrafts, 80 percent of processed foods and 70 percent of household commodities sold at the market are made locally.

"Local apparels, clothes, footwear and sweets, however, make up 50 percent of the market", he added.

MaxiMark sells the highest volume of imports compared to other supermarkets, but the majority of the products they sell are Vietnamese, especially fresh and processed foods.

Over 50 percent of sweets made by local companies like Kinh Do, Bibica, URC and Pham Nguyen are sold at MaxiMark.

Vietnamese-made goods have good quality and beautiful design, and are 60 percent cheaper than imports, buyers still prefer imports.

A salesgirl at the supermarket told Sai Gon Giai Phong, "You should buy foreign goods as presents because their brands sound luxurious, and buy Vietnamese goods to use because they are cheap but still as good as imports."

In competition with imports, some Vietnamese goods still win thanks to their cheap and stable prices. For instance, consumers like Vietnamese spices because they have clear origins, of good quality and stable prices.

Nguyen Thi Hong Phuong, owner of Chi Thanh grocery on D1 Street, Binh Thanh District, said she prefers selling domestic goods because she is issued legal purchase invoices when buying them. However, to meet consumers' demand, she has to sell foreign goods.

Pham Ngoc Chau, director of Hancofood, said to occupy the local market, companies should establish quality standards.

Mr. Bao said Vietnamese goods can compete with imports if the Government tightens tariff barriers to imports.

Vo Tien Dung, a resident from Binh Thanh District, said he will give priority to using locally-made goods if their quality is good and prices are reasonable.

The Politburo's program is aimed at appealing to people's patriotism and respect for their nation, build a consumer culture, promote production of quality goods and help local businesses improve competitiveness in the global economic integration period.