Vietnam has seen a growing trade surplus with Cambodia in recent years with more and more Vietnamese goods becoming popular in the Cambodian market because of their quality and reasonable pricing.
However, to maintain a sustainable growth rate of 35-40 per cent a year in exports to Cambodia, Vietnam needs to overcome many shortfalls.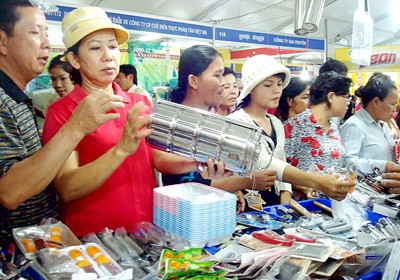 Cambodian customers buying Vietnamese products at the 'Ho Chi Minh City Expo 2012'
Vietnamese brands are well-known
The current 'Ho Chi Minh City Expo 2012' in Phnom Penh City in Cambodia from March 28 to April 1, has 150 Vietnamese companies displaying a variety of products in 200 booths.
Within three hours of its opening ceremony, many Vietnamese booths had already run out of stocks as many Cambodian visitors flocked to the Expo.
Vietnamese companies have provided many new products in this Expo that are attracting Cambodian customers, who seemingly prefer products that are made in Vietnam to those from their own country.
In addition, many Vietnamese products are already brand names in Cambodia, such as Vinamilk, Kinh Do cakes, Vissan, Thien Long ball-point pens.
Vietnam's major exports to Cambodia include instant noodles, plastic products, tobacco, confectionery, corn seed, household products and vegetables. Imports from Cambodia include raw material for the textile and garment industry, automobile spare-parts, rubber and timber.
According to Kep Chuktima, Mayor of Phnom Penh, Vietnamese products are cheap and with acceptable quality. A number of high-quality Vietnamese products have become quite popular in Cambodia.
Products need to maintain quality
A representative of the Yen Sao Khanh Hoa Company said that even though their company entered the Cambodian market only two years ago, it has already been successful in capturing the market. Participating in the Expo will be a good opportunity to promote their products in the Cambodian market.
The Thien Long Pen Company is currently one of Vietnam's leading companies for stationery items. Doan Xuan Nghi, head of the company's office in Cambodia, said that within nine years the company has an export turnover of US$1 billion.
Mayor Kep Chuktima said that Vietnamese companies need to focus on packaging, design and quality to create a strong impression on customers in Cambodia and secure a strong foothold for Vietnamese products in the Cambodian market.
Experts say that to penetrate the Cambodian market, businesses must establish a distribution network for export products; advertise   Vietnamese brands; ensure a good image and maintain prestige while continuing to introduce more new products to the Cambodian retailer. When new products are introduced, customers should be allowed to sample the products. 
Currently, a number of Vietnamese entrepreneurs are keen on setting up business in Cambodia. The country also has at least 50 on-going projects in the neighbouring country, such as rubber plantations,   telecom, tourism, garments and mining.

Many Vietnamese banks have opened branches in Cambodia, such as Agribank, BIDV, Sacombank, MB bank and SHB bank.