Vietnamese Goods Week 2015 is set to kick-off on September 27 in Hanoi, HCM City and Da Nang to increase awareness of Vietnamese goods as well as their competitiveness.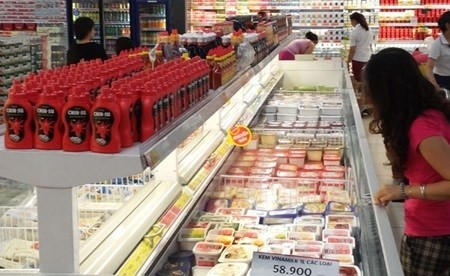 Vietnamese chilli sauce and ice-cream products are sold at Vinmart supermarket. (Photo: VNA)
Speaking at the press meeting held in Hanoi on September 23, Deputy Minister of Industry and Trade Ho Thi Kim Thoa said the week has been one of solutions to support the plan of developing a local market link to the Vietnamese to give priority to the Vietnamese goods campaign.
The plan targeted that 90 percent of Vietnamese consumers and businesses should know about the campaign by 2015 and 70 percent of Vietnamese goods could be competitive in rural and remote areas by 2020.
It also targeted to ensure that all localities in the country organise supporting services to connect supply and demand of producers of Vietnamese goods.
Thoa added that several contracts were signed after previous conferences connecting supply and demand.
Vo Hong Son, Director of the Vietnam Industry and Trade Information Centre (VITIC) said the one-week programme would organise a roadshow, exhibition and conferences to unravel the difficulties of Vietnamese goods producers.
Covering an area of over 6,000sq.m, the exhibition is expected to attract more than 500 booths from around 300 local groups, corporations and small and medium-sized enterprises (SMEs).
The Vietnamese goods of garment and textile, leather shoes, and petroleum, in addition to building material, mechanic equipment, electronics, and food technology would be showcased at the event.
Enterprises participating in the exhibition would be chosen from 63 firms with national trademark award in 2014. One hundred Vietnamese companies achieved outstanding products and services in 2014.
Son said there would be no entry fee for SMEs, artists and trade villages attending the week. Big groups and corporations would have to pay a fee to join the event.
People's Artist Le Khanh and actress-cum-entrepreneur Mai Thu Huyen would act as brand ambassadors to the programme.
The programme would be broadcast live on VTV on October 4.-VNA