A Vietnamese Handicrafts Fair will be held in Alexander Square, one of Berlin's most busy locations, from July 11 to 13.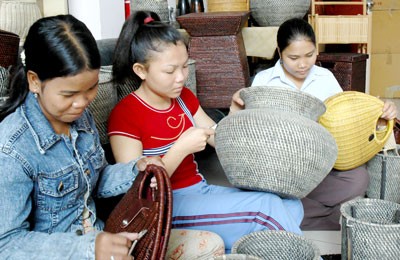 (Photo: SGGP)
The organizers of the Fair are state-run enterprises SASCO and Viethaus AG. This event is being sponsored by the People's Committee of Ho Chi Minh City with the Department of Industry and Trade adding VND10 million ($477) for each participant for promotional expenses.
The Fair will exhibit unique handmade commodities made by Vietnamese artisans and will be an opportunity to promote Vietnamese handicrafts to international customers as well as study the taste of German consumers in particular and European people in general.
In the framework of the Fair, the event will also introduce Vietnamese cuisine, folk songs and games.
The Fair will have 32 booths, of which 27 will exhibit handicraft commodities and five will promote cuisine culture. Doan Thi Mai Huong, SASCO's deputy chief, said that Vietnamese handicrafts are naturally competitive in the world market, therefore, the Fair will be also be a chance for enterprises to expand their market.
At the end of the Fair, VietMart Berlin will display and sell goods by consignment.