Economic and financial experts met at a seminar on Thursday, hosted by Vietnam Gold Traders Association, to discuss ways to mobilize vast amounts of gold stashed and hoarded away for a rainy day by Vietnamese people.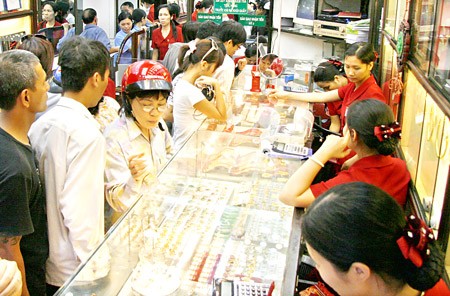 Vietnamese are in the habit of hoarding gold for a rainy day (Photo: SGGP)
According to delegates at the seminar, gold reserves are estimated to be almost 400-500 tons, calculated on basis of the total gold volume exported and imported over the last few years.
 
If the calculation were to cover the gold hoarded by citizens over the last century, the volume may reach thousands of tons, equivalent to US$50-60 billion or half of Vietnam's GDP.
 
Dr. Nguyen The Hung, director general of Vietnam Gold Company, said that if only half this gold amount is circulated by the citizens, the Government will be able to reduce loan amount taken from international credit institutions and for which the State Bank can regulate the market in case of price fluctuation.
Luong Van Tu, former head of WTO Accession Team, said that Vietnamese citizens regard gold as a valuable future investment. If the State wants to mobilize this gold, they must offer a very sound and secure policy to persuade people to bring out their deposits out into the open, and convince them of easy withdrawal, as and when needed.
Besides, interest rate on this gold deposit must be attractive enough to persuade gold resource holders to reveal their hidden assets, said Mr. Tu.