Foreign Investment Department, under the Ministry of Planning and Investment, has announced that total investments from Vietnam in foreign countries in 736 projects have exceeded US$15 billion over the years, and in the first nine months of this year were US$1.3 million.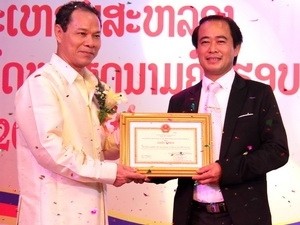 Vietnamese ambassador to Laos Ta Minh Chau presents certificate of merits for Nguyen Duc Moc, Chairman of Vietnam Entrepreneurs' Association in Laos (photo VNA)
Specifically, in the first nine months of 2012, the Ministry of Planning and Investment had issued licenses for foreign investment for 66 projects at a total registered investment capital of US$1.217 billion.

Major investment projects in the agriculture and forestry sector numbered 14 projects; whole sale, retail sale and repair works were 11 projects; industrial processing, manufacturing were eight projects; mining were eight projects; the other remaining projects were in the field of accommodation and catering services, education and training.
Among the foreign countries and territories, Laos has the most number of Vietnamese invested projects, totaling nearly $3.8 billion; followed by Cambodia with nearly $2.6 billion; US by $306 million; Singapore by $87 million. Vietnam is by far the largest foreign investor in Laos.
Vietnamese entrepreneurs in Laos have been involved in preserving and developing the special friendship between the two countries.
Vietnamese businesses have practically engaged in reducing poverty in their host country by financing the construction of schools, health clinics, roads and resettlement houses in localities where they have investments.
A majority of the 193 Vietnamese firms currently operating in Laos are focused in fields such as energy, services and infrastructure.
They have been encouraged to step up investments in response to the Vietnam-Laos Friendship and Solidarity Year in 2012.