Essential consumer goods are believed to be the strong point of Vietnamese companies, but in reality they are overwhelmed by imported goods because of their better quality, which Vietnamese-made products lack.
The Ministry of Industry and Trade has reported that import turnover of milk, vegetables, fruits, confectionery and medicines touched US$1.38 billion in November, a slight drop compared to the previous month but an increase of 12.5 percent year-on-year.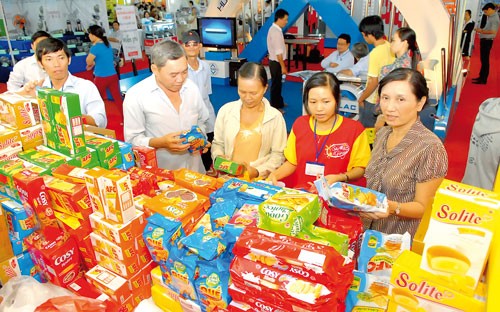 Vietnamese companies should improve quality to attract consumers. (Photo: SGGP)
In the first 11 months of this year, total imports of these commodities hit $13.3 billion, up 11.7 percent over last year, accounting for 12.6 percent of total imports from Vietnam. Of these, vegetables and fruits rose by 16.8 percent; confectionery and cereal products by 66.4 percent; medicines by 20.2 percent; and plastic goods by 24.1 percent.
At first glance, these figures seem irrational as Vietnamese companies can produce these products easily. However, they are being held back on account of two reasons.
First, the quality of Vietnamese products is not on par with foreign made goods and hence do not satisfy consumers. Second, Vietnam had signed many tariff agreements within the framework of free trade agreements such as ASEAN, ASEAN-China, ASEAN-South Korea, and WTO. As tariff cut is inevitable and irreversible, foreign-made products have more opportunities to enter the Vietnamese market. In addition, consumers prefer foreign-made products, so despite the economic slump that has caused people to tighten spending, imported milk and medicines are still in much demand, irrespective of price.
Vietnamese products sell through local supermarkets and trade centers, but foreign-made products have such a firm foothold that if Vietnamese companies do not put greater effort, their products stand to be altogether rejected by consumers on their own home turf, said Nguyen Khanh Long, a representative of wooden toy producer Long Nhat Company.
In fact, Vietnamese-made products have been facing fierce competition as more imported products have been landing in markets. In order to compete with foreign-made products, authorities should put up technical barriers against imported goods and encourage Vietnamese consumers to use domestic-made products and firms should focus on improving quality.
Trinh Chi Cuong, CEO of Dai Dong Tien Plastic Company, said that in order to compete with foreign products, besides improving quality by launching anti-bacteria plastic household products, the company also diversified its products. Currently, the company produces high-quality interior products besides plastic household goods.
Most Vietnamese companies have been attempting to improve quality and their image in the eyes of consumers.
In the competition with foreign confectionery this Tet Lunar New Year, Vietnamese companies are struggling to produce high-quality products.
A representative of Bibica said that this year the company concentrated on making many kinds of high-class sweetmeats with spectacular designs. Despite having the same quality as foreign-made confectionery, Bibica's sweetmeats will be sold at a lower price by about 20 percent.
Besides efforts from local firms, the intervention of authorities by setting technical barriers is necessary as most companies do not hesitate to compete fairly with high-quality foreign-made products but low-quality imported products that have been flooding the market. Up until now, Vietnam has not built national standards as well as technical barriers against imported products to fortify competitiveness for local products.
According to Nguyen Dang Hien, CEO of Bidrico, the Government should intensify control of imported goods. Loose sanctions have caused more difficulties for Vietnamese firms as Vietnamese products usually have to meet many strict requirements to export to other countries.
Moreover, the Government should encourage Vietnamese people to consume Vietnamese-made products so that in 2015, when the free trade agreement between ASEAN and China takes effect, Vietnamese-made products will already have made a strong foothold.