Four of the country's biggest retailers have got together to form the Viet Nam Distribution Association Network Development and Investment Joint Stock Company (VDA) to strengthen their purchasing power, logistics and distribution.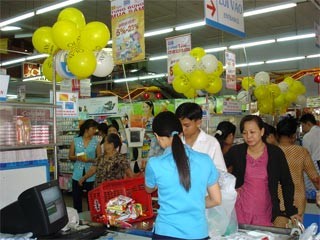 The cooperation of retailers will improve and modernize the country's trading system (Photo: Hoang Yen)
VDA, which was launched in Ha Noi today, involves Hanoi Trade Corporation (Hapro), Saigon Trading Corporation (Satra), Saigon Co-op and Phu Thai Ltd. Its chairman is Huynh Van Minh, who is also Satra's general director.
 
Speaking about the new entity and its purpose, Mr. Minh said Vietnamese retailers needed to cooperate to make better use of their business advantages, thereby promoting competition with overseas sectors.
 
He added that increased cooperation would benefit suppliers and customers both.
 
Two stages of development are planned for VDA. From March to October 2008, the corporation will spend about VND1.5 trillion (US$94 million) to build supermarkets, shops, warehouses and other infrastructure in urban centers.
From then to October 2011, VDA will raise its investment capital to VND3-6 trillion and build more supermarkets and wholesale distribution centers as well as get involved in the securities market in some form or another.
 
VDA also intends to expand its business in suburban areas by raising the number of retail outlets in order to increase its competitiveness with foreign distributors.
 
Since Viet Nam is now a member of the World Trade Organization, local distributors should take advantage of each other's expertise and work together, Mr. Minh said.
Trade Minister Truong Dinh Tuyen expressed his pleasure with the cooperation of the four enterprises to improve and modernize the country's trading system.