In the last three years, supermarkets have been successfully selling domestic-made confectionary during the Tet Festive Season, with customers preferring Vietnamese-made sweetmeats because of their improved quality and reasonable pricing.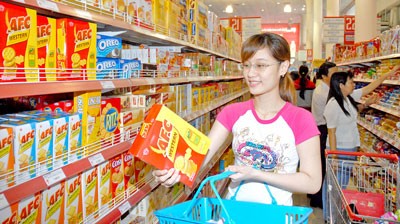 The filed photo showing a customer choosing a local product at a supermarket (Photo: SGGP)
Vietnamese-made confectionary is now rapidly competing with foreign brands at local supermarkets. Increase in sales of Vietnamese candy products shows that customers are buying more domestic-made products, thanks to better quality, flashier advertising, and a wider range of available products.
Despite fears of slow purchasing power during the coming Tet Lunar New Year, confectionaries are still planning to increase their volume by 10-20 percent.
For instance, Kinh Do Company plans to launch more than 3,800 tons of various kinds of candies in the market, an increase of 20 percent in quantity compared to the same period last year. Bibica Corporation also intends to retail 1,200 tons, a year-on-year increase of 15 percent. Whereas, the Vinamit Company will make 100 tons of sesame, lotus seed and peanut candies in addition to traditional sweets.
Manufacturers are making efforts to improve quality, in order to beat competition by foreign brands, which once flooded the market.
Domestic businesses have recently begun to pay more attention to promoting their own brand, as well as upgrading technology, improving quality and diversifying products.
Accordingly, domestic-made products have been warmly welcomed because they have proven to be of good quality and competitive in price, compared to foreign brands. Customers are choosing more products of local confectioneries like KFC, Cosy Marie, Goodies biscuits and Hura sponge cakes.
Candy from Kinh Do, Bibica, Snfood, Pham Nguyen, Hai Ha, and Co.opMart has replaced candy from neighboring countries. Bibica's two premium product lines are Goody and Palomino, launched this year with attractive packaging for Tet. Kinh Do Corporation has launched Korento made with ingredients imported from Europe.
Along with improving quality and design of packaging, there is also a growing price competition among domestic enterprises and foreign brands. To focus on this target, enterprises cut down all unnecessary expenditure and accept reduced profits, though this year they want to hike by 5-7 percent. To stimulate purchasing power, enterprises have stopped spending on design so as to reduce prices.
Better research and state-of-the-art technology, as well as improved quality by sweet manufacturers has been highly appreciated by distributors and supermarkets. Supermarkets have arranged shelves in strategic locations so as to gain the attention of consumers.
Among 50,000 items available at supermarkets like Co.opMart and Big C, domestic products make up for 90 percent. Nguyen Phuong Thao, managing director of Maximark on Cong Hoa Street said they are planning to reduce 30-40 percent of imported goods and replace them with domestic-made confectionary, as these are cheaper by 25 percent compared to foreign brands.
Mrs. Loi, a confectionary shop owner in Ben Thanh Market in District 1, said her shop only sells domestic-made confectionary as these are cheaper and hence sell well. Mrs. Oanh, a confectionary shop owner in Binh Tay Market in District 6, said local enterprises are in a position to offer higher discounts and quick delivery, while sellers of foreign brands face losses once the product becomes stale.