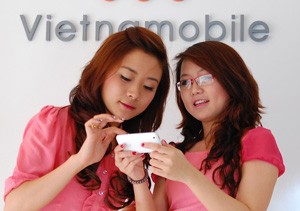 File photo shows two of Vietnamobile customers

Vietnamobile launched its 3G services early December as Vietnam's fifth mobile network operator to supply the services.
The operator says its 3G connection speed is up to 21.6Mbps.
For a start, Vietnamobile focuses on developing 3G in major cities with target 94% urban pop coverage in Ho Chi Minh City, Da Nang and then Hanoi .
Vietnamobile CEO Elizabete Fong said, "Our customers now can enjoy both 2G and 3G seamlessly at the same price, same charging principles."
The network 3G rates starts with VND10,000 (about 50 US cents) a month or VND5,000 a day for 120 MB of data.
Vietnamobile applies the same tariff and SIM card for both cell phones and USB devices. Using the same type of SIM card, customers may use both 2G and 3G, depending on their usage need for all available services.
Vietnamobile is a partnership between Hutchison Telecoms International and Vietnam's Hanoi Telecoms.
Other 3G suppliers in Vietnam include mobile network operators MobiFone, VinaPhone, and Viettel.