Mobile phone network Vietnamobile launched Monday a low-cost package of VND990 per minutes for calls to all other mobile networks in the country.
The Max Circle package is for pre-paid subscribers using the 092 and 0188 prefixes. It costs a fee of VND1,490 per day.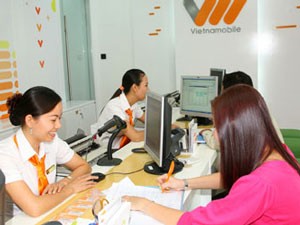 A customer (R) makes registration at a Vietnamobile service shop (File photo: VTC)
The new rate saves users more than 30% off of normal calls. All calls are charged by one-second blocks, meaning customers pay for the actual time usage.

"Max Circle aims to bring the highest financial value to all-net communication," said Vietnamobile deputy CEO Nguyen Xuan Quan.

"We are aware that preferential policies for other-net calls are vital to up-and-coming mobile networks like Vietnamobile. Through programs like this, Vietnamobile wants to reiterate its commitment in giving customers highly cost-effective promotions and user's packages," he added.
This is the operator's third promotion initiative in April as Vietnamobile is celebrating its one anniversary this month, including a deal running from Apr. 19 to 23, where customers get a gift of 100% top-up value (50% all-net and 50% inter-net charges) for every e-card valued at VND50,000 or more.
Vietnamobile was launched in April last year as a partnership between Hong Kong-based Hutchison Telecom International and local operator Hanoi Telecom.