Vietnamobile officially started its mobile Internet offerings to customers via its GSM network available nationwide on Nov. 12, allowing users to get access to the Internet with cellphones.
Speaking at a press briefing in Ho Chi Minh City Thursday, Vietnamobile vice president Nguyen Xuan Quan said the access speed was up to 236.8 Kbps.
"To put it simply, the speed is four times or so higher than Internet access at free Wi-Fi cafes," he said.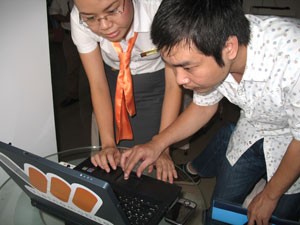 A Vietnamobile staff member (L) helps a cellphone user know more about the operator's mobile Internet services in Ho Chi Minh City Nov. 12 (Photo: Tuong Thuy)
The operator's mobile Internet services go with a data package it calls Flexi, which is available for both prepaid and postpaid users.
Vietnamobile also activated what it calls VM Zone services that provide news serve entertainment purposes.
What is needed to access the Internet via Vietnamobile is the operator's USB Modem, supplied by China's Huawei.
Vietnamobile is a partnership between Hutchison Telecommunications International and local operator Hanoi Telecom. The GSM network, which was launched April this year, partners with global network suppliers Ericsson and Huawei.
In a press release issued on Nov. 9 in Hong Kong, Hutchison Telecom said its Vietnam operation reported a sound quarterly growth of 63.3% to a customer base of 1.02 million from the beginning of July to the end of September. The announcement said over 1,100 base stations were added in Vietnam in the third quarter, taking the number of base stations on air to 2,600.
"We are encouraged that the Vietnam operation surpassed the one million customer mark within six months of launch," Hutchison Telecom chief executive Dennis Lui was quoted as saying.