Vietnam's textile export turnover are set to reach around US$13 billion this year, while local producers will switch their core business from outsourcing to exporting, said an official of the textile giant Vinatex.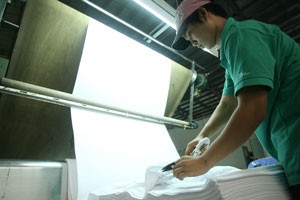 Caption: Vietnam's textile export turnover are set to reach around US$13 billion this year (Photo:Minh Tri)

"Vietnam's apparent export turnover last year reached more than $11 billion, an increase of 23 percent from 2009," said Vu Duc Giang, chairman of the Vietnam Textile and Apparent Association and Vinatex.
"Of the amount, sales on Japan market rose strongest, increasing 20 percent to $1.2 billion. Following were the US and the Europe, increasing 22 percent and 14 percent to more than $6 billion and $1.8 billion respectively".
Statistics show that Vinatex, also known as Vietnam National Textile and Garment Group, last year made a revenue of more than VND30 trillion ($1.5 billion), an increase of 26 percent from 2009 and 17 percent higher than 2010's target.
Its export turnover rose by 23 percent to $2.1 billion, while its profit increased 23 percent. Vinatex has more than 3,100 outlets and 56 fashion supermarket nationwide.
Mr. Giang said the group also carried out many projects on producing materials in an attempt to boost the output.
"We carried out 81 projects on producing fabric and cotton. Our cotton planting area increased 15 percent [around 10,470 hectares], which helps boost our domestic product rate to jump up by 2 percent to 49 percent," said Giang.
Giang said Vinatex this year will focus on setting up textile industrial complex, which will help reduce delivery costs and shorten the shipping time. He noticed Vinatex also focused on training skillful employees and widening the cotton planting areas, which helps boost the rate of domestic products.
"Developing auxiliary industries requires appropriate locations, convenient traffic, and especially trained employees. Vinatex has set up detailed plans for each textile industrial complex in every province in an effort to meet up with the requirements," Giang said.
"We also invested strongly in dyer, textile and garment factories and built tailor shops producing samples in large quantities, which help us to achieve big purchase orders."
A trading center for materials used by the textile and apparel and footwear industries that suspended operations in June will be revived in cooperation with a state-owned group, its investor said.
Vinatex, which has 100 affiliates that exported $1.14 billion last year, targets to become the world's top ten apparel export corporations by 2015.
Vietnam is among the world's top 10 apparel and footwear exporters. The Southeast country joined the Asian Fashion Federation in 2009, which at present comprises China, Japan, Singapore, South Korea and Thailand.