Even though the peak season of Tet Lunar New Year is nearing, October auto sales continued to dip, causing the car production line to slow down in an already dying car industry.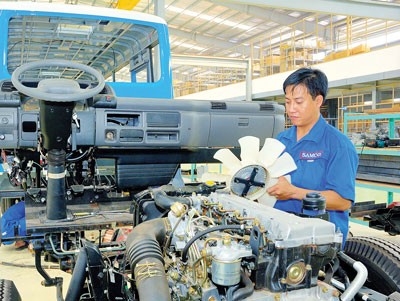 A worker assembling a car (Photo: SGGP)
The Vietnam Automobile Manufacturers Association (VAMA) reported October industry sales figures at 7,998 units, which included 3,128 cars and 4,870 trucks.
The locally assembled car volume reached only 6,782 units and imported vehicles were 1,216.
In the first ten months of the year, car sales for the entire market reached 30,000 units, down 50 percent year-on-year.
Accordingly, turnover in the first ten months of the year decreased 50 percent compared to the same period last year.
 
The association forecasts that around 94,000 units will be sold this year, much lower than previous predictions of 140,000 units.
 
Sensing bad market trends, many manufacturers and importers have changed their strategy. Toyota, which has the biggest market share in the country, has reduced production from 36,000 to 25,000 vehicles. Other manufacturers have followed suit and workers in factories now work only three days a week.
 
Importers are lamenting--some like Hyundai Thanh Cong, Renault, and Volkswagen have not imported any vehicle parts for the last one month. Some had to negotiate with partners to cancel deposit contracts.
According to VAMA figures, in the last three months, only 1,000 units have been imported into the country while the Ministry of Industry and Trade figures show a decrease of 65 percent in volume and 71.6 percent in value in imported cars.
 
At a recent seminar to iron out the difficulties in the automobile industry and market, people blamed increasing taxes and fees for poor sales. Michael Berhrens, Chairman of Mercedes Benz proposed that Vietnam should adopt more transparent and long term tax policies and fees to help the automobile industry grow.
It is impossible for the industry to sustainably grow if tax and fee policies are changed so frequently, Berhrens said.
 
Agreeing with Berhrens, Nguyen Khanh Toan, VAMA's deputy chairman, said that right now a vehicle has to pay nine different kinds of taxes and fees, which raises prices while incomes remain low. He pointed out that the income of Vietnamese people is equivalent to one-fiftieth that of an American and automobile prices are 365 times higher.