Despite the economic slump that is forcing consumers to cut spending, local and foreign investors believe that the food and beverage industry in Vietnam continues to remain attractive.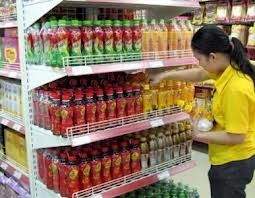 A beverage stand of Tan Hiep Phat Beverage Group in a supermarket. (Photo: SGGP)
Seeing that demand and growth in this field is huge, manufacturers have been promoting their investments to win more market share. Recently, Coca Cola announced that it will pump in more investments of upto US$300 million, starting next year. This investment will be used to improve operations of its three factories in Hanoi, Da Nang and Ho Chi Minh City.
In addition, Coca Cola Beverages Vietnam Ltd also signed an agreement with Saigon Co.op for business dealings, effective beginning of next year.
After developing in the seasonings sector for several years, Vedan realized the potential in the Vietnamese market so it started to encroach into the beverage sector with Thien Tra trademark.
In order to promote its operations, PepsiCo established a joint venture with Japanese beverage producer Suntory in Vietnam, in which the former held 49 percent stake and the latter 51 percent stake. This joint venture will concentrate on expanding foods and beverages to help PepsiCo firm its grip on the Vietnamese market.
PepsiCo had invested around $500 million and built five beverage factories since its debut in Vietnam in 1994. Its latest factory opened in October in Bac Ninh Province with a total investment of $73 million, which is considered the largest foods and drinks factory in the global PepsiCo network.
According to the Vietnam Beer-Alcohol-Beverage Association, Vietnam's non-alcohol beverage market has been catching the attention of many investors as its growth reached an impressive 20 percent in the past five years. Currently, a Vietnamese merely drinks three liters of a non-alcohol bottled drink in a year while an average Filipino consumes 50 liters a year. Thus, Vietnam's market has great potential.
Domestic beverage companies have also confidently expanded their operations after seeing huge investments pouring in from foreign beverage producers. For instance, the Tan Hiep Phat Beverage Group built Number One Chu Lai Factory in central Vietnam and Number One Ha Nam Factory in the north, increasing the group's annual capacity to 2 billion liters.
Currently, with foreign investors showing a great deal of interest in the Vietnamese beverage market, firms should coordinate with foreign investment funds for capital, management, and technical support.