Business environment in Vietnam has been becoming more friendly, affirmed Chairman and CEO of the Japan External Trade Promotion Organisation (JETRO) Yasuo Hayashi.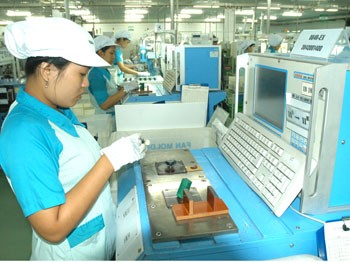 Workers operate producing line at the Japanese NIdec company manufacturing computer assemblies in the High Tech Park in Ho Chi minh City
Talking to a Vietnam News Agency correspondent in Tokyo on the occasion of JETRO's announcement of its report on Japanese businesses' overseas activities in the 2009 fiscal year, Hayashi stressed that more and more Japanese enterprises pay attention to Vietnam when they expand their operations overseas.
According to a JETRO survey, Vietnam leaped up one rank from the previous fiscal year to stand at sixth among the economies Japanese businesses want to expand their sale activities in the next three years. It also jumped two places to stand at fifth among the markets where Japanese partners wants to expand research and development (R&D) activities.
It now stands third in the list of the economies where Japanese companies want to expand their production and ranks ninth among the markets where the Japanese business circle want to expand distribution activities.
The survey, conducted from November to December 2009 on 3,110 Japanese businesses, also shows Japanese companies' attention to such areas as chemical, coal, oil and gas, IT equipment and electronic parts.
Yuichi Bamba, Deputy Director of the Asian and Ocean Division under JETRO's Overseas Research Department, said the business environment in Vietnam has been improved thanks to the Vietnamese government's efforts and the implementation of the Vietnam-Japan Joint Initiative on improving Vietnam 's business environment and strengthening its competitiveness.
However, Hayashi said that several Japanese enterprises are still concerned about business risks in Vietnam , especially risks from the country's poor infrastructure and uncompleted legal system