Since 2011, the consumer goods industry had become one of the most in-demand industries for mergers and acquisitions in Vietnam.
A report by Nielsen shows that the consumer goods market in Vietnam grew 23 percent in 2012, followed by India with 18.8 percent, and China with 13 percent. This is why many foreign investors are being attracted to the Vietnamese consumer goods industry.
A survey by Bain & Company and SVCA showed that 80 percent of investment funds invested in countries in Southeast Asia considered consumer goods as an attractive industry for investment with Vietnam being the most interesting market in the region.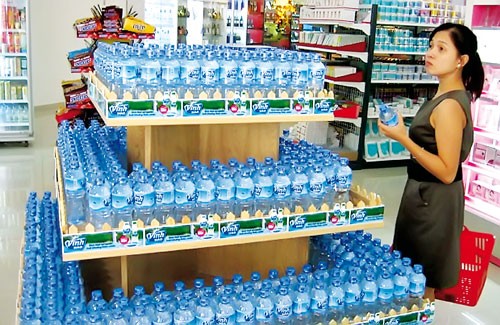 Masan Consumer wants to acquire 100 percent stake of Vinh Hao Mineral Water Corporation. (Photo: SGGP)
Masan Consumer has currently caught the most attention in the consumer products industry in Vietnam thanks to huge M&A business deals. Of late, after receiving US$200 million more from KKR, Masan Consumer announced a 24.9 percent stake in Vinh Hao Mineral Water Corporation. Accordingly, the company wants to acquire 100 percent stake in the mineral water business at a cost of VND700 billion. Earlier, Masan had bought 53.2 percent stake in Vinacafe Bien Hoa and 40 percent stake in Proconco, a cattle feed producer.
Experts say that Masan Consumer is adopting a wise strategy by buying stakes in leading companies in the industry. Particularly because Vinacafe Bien Hoa holds 40 percent market share in the instant coffee market in Vietnam; Proconco is the second largest company to produce cattle-feed; and Vinh Hao mineral water has been a well-known brand in the country's market.
Sweetmeats producer Kinh Do has also caught foreign investor attention. Last year, company revenues hit VND528 billion, an increase of 52 percent compared to the previous year. At present, foreign investors are holding about 49 percent stake in the company with major shareholders being Ezaki Glico, VinaCapital's Vietnam Opportunity Fund, Deutsche Bank, and DWS Vietnam Fund.
In context that many local firms in need of capital for operations, it is necessary to draw attention of investors. However, what should firms do if they do not belong to the group of ten leading companies in the industry or do not own a certain advantage? Ma Thanh Loan, co-chairwoman of Thunderbird Private Equity Center in Asia and CEO of Auxesia Holdings, a private equity advisory group, advised that besides building a strategy to access foreign investment capital, firms should ask for support from professional advisory companies.
Besides M&A business deals with foreign companies and funds, in order to enter and increase market share in Vietnam's consumer goods market, local firms also have expansion plans to catch up with the race.
Beverages are currently in the consumer goods industry with high growth. According to the Vietnam Beer-Alcohol-Beverage Association, a Vietnamese merely drinks three liters of non-alcohol bottled drink in a year while an average Filipino consumes 50 liters a year. This has raised investor confidence, urging them to increase investments.
The first company on the list was Tan Hiep Phat Beverage Group. In mid-2012, the company built Number One Chu Lai Factory in central Vietnam at an investment of VND1.82 trillion which was expected to start operations in December this year. This year, the company will also build a second factory in the northern province of Ha Nam. Tran Uyen Phuong, deputy CEO of the company, said that besides its traditional products, its two new plants will also produce new products.
In August last year, Quang Ngai Sugar JSC started construction on the 60,000 square meter Vietnam Vinasoy-Bac Ninh soy milk plant in Tien Son Industrial Park in Bac Ninh Province. The factory will operate in April this year. Presently, Vinasoy is holding about 80 percent of market share of soya milk sector in Vietnam and building more plants shows its determination to strengthen its foothold in the market.
The appeal of the beverage sector had also drawn a seasonings producer like Vedan to now add bottled green tea under Thien Tra brand onto its products list.
Also, in order to be known, firms have been running high-cost advertisement campaigns.
Similarly, firms in other consumer goods sectors have stepped up so as not to be left behind in the survival game. A country with a population of 90 million of which 68 percent of the population is below the age of 40 and higher income is now becoming more attractive to investors.
However, Vietnamese consumers still expect that local companies will survive because in the past many Vietnamese companies sold to foreign buyers leaving former owners to regret their move.