According to the Chemical Cosmetic Association in Ho Chi Minh City, 430 cosmetic brands operate in the country, of which 90 percent are well-known foreign brands.
Comparatively, only a few Vietnamese cosmetic brand names are visible in the market, such as Saigon Cosmetics, My Hao Chemical Cosmetics and Thorakao of the Lan Hao Company.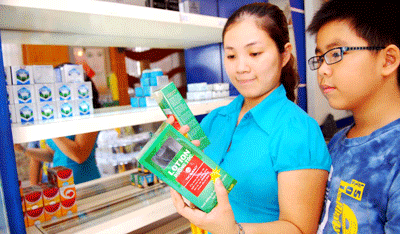 Customers buying Thorakao brand cosmetics in a shop at 241 Bis Cach Mang Thang Tam Street in HCMC (Photo: SGGP)
The cosmetic industry in the country has high development and growth potential with an average turnover of US$150 million a year and an annual sale increase of 30 percent.
However, Vietnamese cosmetic brands only satisfy a cheaper market segment currently, while income of people is increasing and the young are seeking affordable yet good products.
The country's market has thus become a growing market for well-known brands to exploit.
Young people in Vietnam nowadays only know of famous international brands such as Estee Lauder, L'Oreal, Clinique, Clarins, Maybelline, Oriflames, and the Faceshop, which are now well established in the country. In addition, many foreign brand names have their production plants in Vietnam like Olay, Pond's and Avon.
A director of a cosmetic company admits that the quality of Vietnamese-made cosmetics is the same as their foreign counterparts; however, local companies lack the capital to market as aggressively.
Le Thi Chau Giang, former president of ASEAN Cosmetic Scientific Body, said Vietnamese enterprises have many advantages as against their foreign rivals. Firstly, they understand beauty habits of local women; secondly, the country's weather is conducive for growing plants for making raw material, such as peppermint, cajuput and citronella and natural cosmetics are better than chemically made beauty products; and lastly, the young population is very large and the cosmetic market has huge potential to grow.
Giang said that cosmetic enterprises should adopt a basic strategy for short-term and long-term development. Marketing plays a vital role in an enterprise's success. Enterprises should listen and understand the consumers' demand to produce what they need.
Nonetheless, enterprises themselves cannot do all such things without contribution of many related agencies including providing capital and fight against fake products, Giang said.
Nguyen Kim Thoa, director of Saigon Cosmetic, a successful brand name in Vietnam, said a company has to target a specific consumer group and offer competitive prices for it to be successful in this field.