Vietnam's export industry is currently facing a slew of problems like a shrinking market base, price reduction and material shortage, according to delegates at a conference held in Ho Chi Minh City on Tuesday.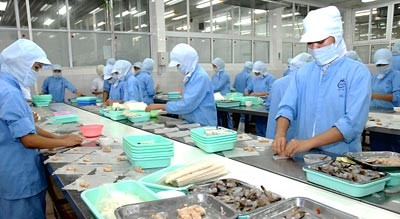 Processing seafood at an export company in HCMC (Photo: SGGP)
Although the Government and the State Bank have implemented a number of policies and measures to assist businesses, they have not managed to create any vital change.
Nguyen Thanh Bien, deputy minister of Industry and Trade, said that exporters are facing a current dire shortage of any long-term orders which is being caused by a fall in global purchasing power and the inability to clear payments.
Only export prices of minerals and pepper continue to increase while most other commodities are being seriously hit. For instance, the export price of rubber fell by 31.3 percent, cashew nut by 10.4 percent, rice by 6.6 percent and coffee by 4.4 percent.
Several other farm produce have also been similarly affected and caused export turnover to drop by more that US$900 million in the first six months of the year.
Businesses are also facing many technical barriers in foreign markets. For instance, Japan has just demanded that ethoxyquin content in shrimps must be 10 times lower than permitted by the EU market.
At the conference, several delegates said that businesses have never seen so many difficulties ever before. While markets continue to shrink, interest rates are going up and cost of raw material surging.
Le Phuoc Vu, chairman of Hoa Sen Company and deputy chairman of Vietnam Steel Association, said that the most important thing now is that bank interest rate should be reduced to help businesses recover.
At present, commercial banks have lowered lending interest rates to 15 percent as per directive of the State Bank. However, this rate is still high and should be further reduced, he added.
According to Cat Quang Duong, deputy head of the Credit Division of the State Bank, 20 credit institutions have lowered interest rates on old loans to 15 percent or lower.
Mr. Bien, deputy minister of Industry and Trade, said that his ministry would work with related departments and ministries to resolve difficulties in capital funding, interest rates and taxation for businesses.
His ministry is preparing a project report to tackle the above problems and submit to the Government by the end of July.
Businesses should also strive to restructure their production and trade, diversify products and markets, so as to prevent risks.