Export turnover of agro, aqua and forest products in the first seven months of the year grew 33.4 percent, resulting in a trade surplus of nearly US$5 billion.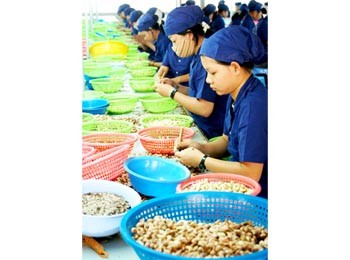 Workers at a cashew processing plant in the Central Highland province of Gia Lai (Photo: SGGP)
The Ministry of Agriculture and Rural Development said that though volumes of these commodities only rose marginally the high price increase resulted in increase in export turnovers.
Export value of the above commodities touched nearly $14 billion in the first seven months. In July alone, export turnover reached $2 billion.
Agro products rose approximately 44.6 percent in value, aqua products by 25 percent and forest produce by 13 percent.
According to the Vietnam Food Association, rice exports peaked at 4.7 million tons to touch $2.3 billion, a surge of 9.7 percent in volume and 10.8 percent in price during the same period last year. The price increase of rice is still lower than of coffee, rubber, pepper and cashew nuts.
Coffee showed about 93 percent increase in export value, while pepper and rubber rose by 72 percent and 69 percent respectively, since the same period last year.
Cashew nuts had a total export volume of 84,000 tons worth $656 million. Though the volume reduced by 16.5 percent, the turnover soared by 21 percent.
The Vietnam Cashew Association forecasts that the price of cashew nuts might further rise by $1,000 per ton by year-end to stand at $8,500 a ton, as the demand is high in foreign markets.
Export turnover of forest and wood products grew by 13 percent to reach $2.2 billion within the first seven months.
In related news, the Ministry of Industry and Trade says Vietnam exports in July continued to rise to reach $8.4 billion, rising by 38.5 percent compared to last year.
The first seven months of the year saw the export turnover reach $51.46 billion. Agro, aqua and forest products increased approximately 39 percent, accounting for 22 percent of the total export turnover.
Fuel and minerals went up by 37.6 percent to bring the turnover to $6.34 billion.
Export of processed food is estimated to reach $26 billion, an increase of 23 percent. It is expected that the processing industry will contribute $45 billion to the total export turnover this year.
The ministry also says that exports to main markets of the world have grown much more since last year.  Amongst these, exports to China jumped by 58 percent, the US 20 percent, EU countries 47 percent, Japan 23 percent and ASEAN countries 19 percent.
The ministry is optimistic with this pace and momentum, presuming the export turnover this year may hit $85 billion, far exceeding last year's record of $72.2 billion.