Experts said export credit insurance boosts the country's export and helps local exporters to reduce risks of losses. However, despite the insurance's advantages, local businesses remain unwilling to opt for it.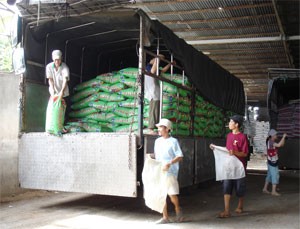 Employees of a rice exporter carry bags of rice on a truck. Local businesses remain unwilling to opt for export credit insurance (Photo: Minh Tri)
"We do know export credit insurance, but we have no plan on using it due to high costs. Moreover, businesses have been still smooth so far without the insurance," said Nguyen Thanh Tuyen, head of marketing department of Viet Seafood.
Many other companies showed a similar opinion about export credit insurance. They worried that high costs of the insurance would push up the operation expenses and reduce their profit margin.
Some in the Mekong Delta especially have never heard about it. Truong Dinh Hoe, secretary of the Vietnam Association of Seafood Exporters and Producers, told Dau Tu Tai Chinh Newspaper he had not received any information about the insurance.
"We will find out and inform to every members of the association," Hoe said, adding he guesses the insurance is useful for seafood exporters.
Analysts warned Vietnam's exporters were carrying high risks of losses from the international payment term, which sees foreign customers transfer money only after receiving shipments.
Therefore, buying export credit insurance is a must even thought it reduces the profit margin, they noticed.
However, statistics from the Association of Vietnamese Insurers show there are only three local insurers providing export credit insurance, comprising of Bao Minh, PetroVietnam Insurance and Australia–based QBE.
Phung Dac Loc, chairman of the association, said only insurers who can assess the foreign importers are able to provide the service. They can estimate trade and politic risks that will affect the importers, Loc said.
Most of the Vietnamese insurers have not been capable for the requirements since Vietnam had no database of businesses worldwide, he said.
Ho Chi Minh City-based insurer Bao Minh also said to be an export credit insurer, it had to cooperate with a foreign large insurer to have access into their detailed information about businesses. The foreign partner is the insurer of Bao Minh.
Experts said local insurers could ask commercial offices of Vietnam's overseas embassies to help create their own database of business profiles worldwide.
Vietnam tops the list of countries in the world needing trade finance, according to an HSBC report that surveyed 17 markets worldwide.
The global bank said that the number of Vietnamese businesses who said they need trade finance will increase to 74 percent in a first-quarter survey from 66 percent in the second half of last year.