The Vietnam Commodity Exchange (VNX) opened its doors for the first time in Ho Chi Minh City on January 11.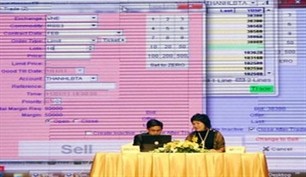 The Vietnam's Commodity Exchange (Photo:VNA)
VNX's head office is located at 18-20 Phuoc Hung Street, District 5 and its transaction division located at 52 Nguyen Cong Tru Street, District 1.
VNX is the first commodity exchange to be license to operate within Vietnam under the decision 4596/GP-BCT of the Ministry of Industry and Trade (MoIT).
With a capital of up to VND150 billion (US$7.5 million), it is allowed to exchange all types of commodities that are regulated by the MoIT. It will focus on the three major products coffee, rubber, and steel.
VNX will manage transactions and provide businesses with financial tools, such as, trade insurance and ensuring a balance between supply and demand.

It will also provide businesses with information on current industrial and economic situations, as well as any consumer demands.

In addition, this commodity exchange will help producers insure against any pricing risks and be able to connect with other commodity exchanges around the world.