A representative of Binh Son Petrochemical Refinery Company, which runs Dung Quat Oil Refinery, said November 5 that Southern Service Flight Company (SSFC) has begun to use Jet A1 fuel produced by the refinery.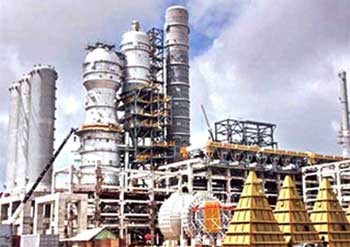 A view of Dung Quat Oil Refinery in the central province of Quang Ngai
SSFC has used the fuel for its 11 flights to explore and exploit oil and gas.
 
It was the first time the locally-produced Jet A1 fuel used in the airline sector.
 
Vietnam's demand for the fuel is estimated to hit 700,000 tons per year, 350,000 tons of which is needed by local airlines.
The first 4,500-ton batch of jet fuel produced by the Dung Quat refinery was sold to a Singapore-based unit of BP in August.
PV Oil, a subsidiary of state-owned Vietnam Oil and Gas Group, and Binh Son have also chosen Shell as another buyer for the Jet A1 product.
Dung Quat, Vietnam's first refinery, is expected to produce between 200,000 and 300,000 tons every year to be sold in both local and foreign markets.
National carrier Vietnam Airlines has started negotiations to buy jet fuel from the refinery for supplies for domestic and international aircraft in the country.
Another local airline, Jetstar Pacific, said it also plans to use local fuel products as long as they are of high quality.
Jet A1 is the first Vietnamese jet fuel product.
It has been certified by oil majors including Shell, BP and Chevron.