Vietnam's footwear exporters have a gilt-edged opportunity to achieve a booming time this year thanks to the European Commission's removal of the anti-dumping taxes and Free-Trade-Agreement (FTA).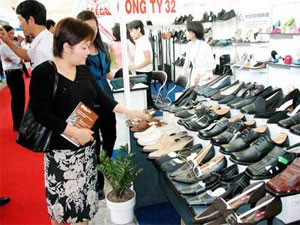 Customers watch leather shoes displayed at a HCMC-based shop. Vietnam is one of the ten biggest footwear maker worldwide (Photo: xaluan.com)
The European Commission last month signaled the end of long-standing anti-dumping taxes levied against Chinese and Vietnamese shoes, according to AFP.
The commission gives notice that the anti-dumping measure ... will shortly expire," the EU's executive arm said in the European Union's daily official journal.
"No request for a review was lodged," for the punitive taxes to be re-imposed after they expire on March 31, the official journal noted.
The penalty taxes were first applied more than three years ago in retaliation against Asian footwear being sold in Europe at below production cost.
The European Commission stressed, in the official organ, that it considers it "appropriate to monitor for one year the evolution of the imports of footwear with uppers of leather" originating from China and Vietnam "with a view to facilitate swift, appropriate action should the situation so require."
"Local footwear exporters will have to cope with a harsh competition from Chinese competitors after the anti-dumping taxes were removed," said Vu Ba Phu, deputy head of the Competition Management Department of the Ministry of Industry and Trade.
"However, a FTA (Free-Trade-Agreement) with the Euro Commission will give Vietnam's footwear industry big advantage when exporting to the European countries. And that is a great chance we should not miss," Phu said.
Statistics show export turnover of China's footwear industry to the EU reached 21 percent compared to Vietnam's 8 percent.
Despite the promising outlook, the domestic footwear industry has to deal with many issues including fierce competitions from foreign rivals and a shortage of materials and human resource, said an official of the Vietnam Leather & Footwear Association (Lefaso).
"At present, the tax rate on Vietnam's exported footwear is 10 percent and the rate on China's exported footwear amounts 16.5 percent. The deficit of 6.5 percent is a great advantage for Vietnam's exporters," said Huynh Thuy Minh, director of the footwear producer Le Phat.
"China's footwear price is 20 percent cheaper than ours as it can produce raw materials. Vietnam's makers, in contrast, have to import up to 80 percent of materials for production. To improve the competitiveness, I think we should focus on quality improvement," Minh said.
Experts said local producers have lost many big orders to foreign competitors since they lack information about the European markets.
Many Vietnamese exporters missed opportunities to achieve big orders as they usually ignored information about policies and guidelines on import procedures, which were provided for free by the EU's organizations.
Booming market
Statistics from the General Statistics Office of Vietnam show footwear export turnover amounted to US$310 million in the first two months of the year, a year-on-year increase of 14.8 percent.
In 2010, the export turnover increased sharply by 20 percent to $6.1 billion thanks to big orders from the two major markets including EU and the US.
According to the Lefaso, the sales of leather shoe worldwide reach around $17 billion per year. Local footwear producers are entering new markets, including Turkey, Australia, Canada, South Africa and Africa.
Vietnam is one of the ten biggest footwear exporters and the fourth largest leather shoe producer around the world.