Experts expected the domestic gold price will make minor changes in spite of the global surging price as local investors are waiting for the government's further moves on managing the gold market.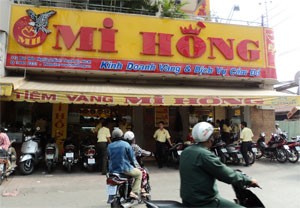 Despite the global increasing price, the domestic gold price almost treads water as local traders wait for the government's further moves on managing the gold market (Photo:Minh Tri)
Phan Thanh Hai, head of the foreign currency trading department of GiadinhBank, expected as a safe haven, weakening US dollar and China's accelerating inflation will keep gold in the rising trend this week.
Gold opened at $1,497.50-$1,498.50 an ounce in Hong Kong, down from Thursday's close of $1,507.50-$1,508.50, according to AFP. Markets were closed on Friday and Monday for a public holiday.
Contrast to the international move, the domestic gold price is almost treading water. Saigon Jewelry Holding Company (SJC), Vietnam's largest gold merchant, announced on its website that the yellow metal's prices amounted to VND37.63 million per tael in Ho Chi Minh City and VND37.65 million in Hanoi. A tael is slightly more than 1.2 troy ounces.
Nguyen Cong Tuong, deputy head of the business department of SJC, told Dau Tu Tai Chinh Newspaper that the government's regulations on managing the gold market were affecting sentiment of investors and traders.
The State Bank of Vietnam has asked commercial banks to cease lending gold in May and stop accepting gold deposits two years from now, Thanh Nien Newspaper said on its website.
 
Vietnam has already forbidden banks from lending gold for the production and trade of gold bars since October last year. But starting May 1 banks are not allowed to offer gold loans to jewelry makers either.
The new rule is an attempt to eliminate the role of gold as a means of payment in Vietnam, the central bank said. It noted that the government will, however, continue to recognize the right of citizens to have gold holdings.
Banks in Vietnam are offering interest rates of 0.5-1 percent a year on gold deposits. A banker said the rates would fall when banks are banned from lending gold.
The central bank is expected to issue a decree soon that further tightens control over the gold market in Vietnam.
Analysts predicted that the domestic price of the precious metal will continue to remain unchanged in spite of the global increasing trend as the government's strict supervisory on gold trading and high saving rates will lead locals to sell the yellow metal to deposit in banks.
Financial experts noticed that the central bank's anti-dollarization measures also made some impacts to the gold price.
The State Bank of Vietnam early this month announced a new cap on dollar deposit rates in an effort to restore stability in the monetary market.
 
Starting April 13, the ceiling for interest rates on dollar deposits will be 3 percent, the central bank said. For institutional and corporate clients, the cap will be just 1 percent.
The central bank said banks in Vietnam are offering to pay individual clients an average 4.5 percent a year on dollar deposits, much higher than the rates in regional countries.
The new cap is necessary to bring local and international rates closer to each other and to stabilize the currency market, the bank said, noting that higher dollar rates put upward pressure on dong rates.