The nation inaugurated its largest Ethanol Plant in Dai Tan Commune in Dai Loc District of the central province of Quang Nam on April 2.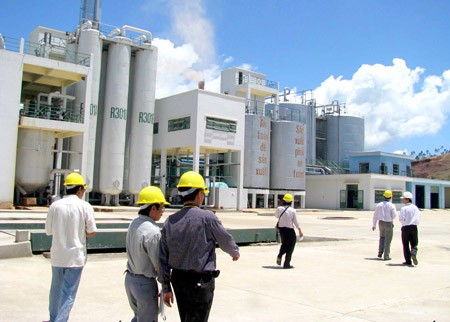 Dai Tan Ethanol Plant is inaugurated on April 4.
The bio fuel plant, owned and operated by domestic producer Dong Xanh, has the capacity to produce 100,000 tons of bio fuel per year, equivalent to 125 million litres of gasoline. This plant will greatly enrich the industry in Dai Loc District.
The plant is one of three largest ethanol plants in Southeast Asia. It currently creates jobs for 300 local workers and consumes around one thousand tons of cassava feedstock from 20,000 farmers.
In 2010, the plant produced around 12,000 tons of ethanol.
As of now, 5% ethanol-blended gasoline is available everywhere in the country and it will be exported to other countries.
In related news, Dung Quat Oil Refinery resumed normal operations on April 2 after a one-week shutdown for checking and maintenance of machinery.
The plant will operate full blast today, April 3 and produce from 17,000-18,000 tons of petroleum products.
Earlier, the refinery had shut down its operation for inspection, since March 23. It had planned to remain closed for two or three weeks. The plant plans to carry out inspection works before the scheduled maintenance in July.
Dung Quat, Vietnam's only refinery will produce about 4.9 million metric tons of petroleum products in 2011, according to PetroVietnam. The plant plans to import 640,000 tons of crude in the first six months of 2011 compared with a total of 400,000 tons in 2010.