A USS$245 million liquefied petroleum gas (also called LPG, GPL, LP Gas, or autogas) refrigerated terminal will be built in the southern province of Long An.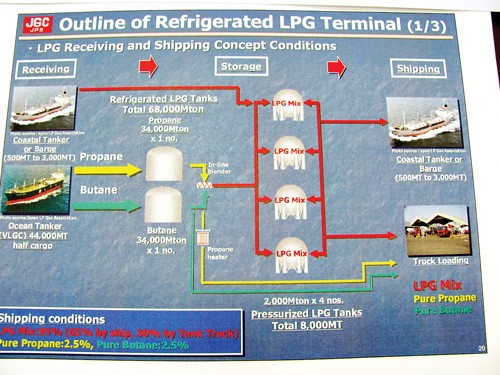 The map of LPG refrigerated terminal (Photo: SGGP)
Vietnam Oil and Gas Group (Petrovietnam) and Vinabenny Energy Joint Stock Company, the terminal's investor, broke ground to construct the largest LPG refrigerated terminal in the country in the Mekong delta province of Long An on November 17 with its total storage capacity of around 84,000 metric tons of LPG.
The terminal is expected to help reducing cost and guarantee the nation's energy security. The demand increases gradually; for instance, the consumption of LPG went up from 400,000 metric tons in 2000 to 1,200,000 metric tons in 2010.  It is predicted the demand of LPG in 2015 would be very huge around 1,5 million metric tons a year.
Moreover, when two refinery plants Nghi Son and Long Son are officially operated, they will be able to produce 700,000 tons of LPG (around 40 percent of the demand); therefore, it will have to import the remaining 800,000 tons of the products to meet the domestic demand
However, Vietnam's current storage capacity is very small with 31 warehouses whose capacity ranges from 500 tons to 4,000 tons. Only 4 of them have capacity of over 3,000 tons. It has hindered LPG enterprises to directly import a large quantity of the mixed hydrocarbon gases from Middle East and Australia but from Asia countries like China and Singapore.