Vietnam's first oil refinery, Dung Quat, has seen a halt because of a broken valve in the cracking section, its management said Aug. 25.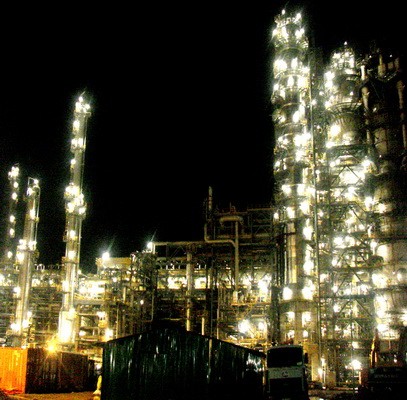 Dung Quat Oil Refinery at night
The fluid catalytic cracker, which makes gasoline and other products, broke down on August 18 due to technical problems.

Dang Vu Minh, chairman of the National Assembly's Committee for Science, Technology & Environment, who led a team to inspect the plant on August 24, said the consortium of contractors led by French oil services group Technip has to find the cause of the problem and fix it soon.
The board said the refinery has seen technical breakdowns during the current trial period.

Technip is now working with Binh Son Refining and Petrochemical Company to fix the problems.

But the board said the repair might take three months because some equipment has to be procured abroad.

The refinery has processed 880,000 tons of crude oil from the Bach Ho oilfield in Vung Tau and sold 240,000 tons of petroleum products in the domestic market.
The 148,000 barrel-a-day refinery, which started commercial operation last February, is expected to meet a third of Vietnam's fuel demand by next year. The nation currently imports almost all of its oil needs.