Vietnamese enterprises have moved into new international markets as they shift their overseas investment focus from farming and mining to the service sector.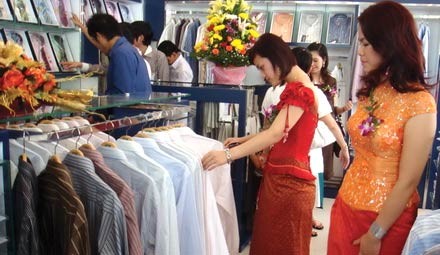 Viet Tien shop in Phnom Penh, Cambodia. Viet Tien Garmant Company is one of Vietnam's most popular makers of shirts and men's attire (Photo: Tuoi Tre)
According to the Ministry of Planning and Investment (MPI), as many as 38 overseas investment projects worth a total of US$170 million were licensed in the first four months of this year.
 
The projects were not only in traditional sectors like agriculture, mining and industrial forestation, but also in construction services, online games, trade centers, restaurants, investment consultancy services and real estate, the ministry said.
 
The shift in investment flows to the service sector was most clearly seen in Cambodia and Lao, Vietnamese investors' favorite overseas markets.
 
In the first four months of this year, Cambodia has become home to Vietnam's two largest overseas projects: a reforestation project by the Duc Nhan Joint Stock Company, and the establishment of a Vietnam Bank for Agriculture and Rural Development branch.
 
Vietnamese investment has also moved into countries and territories that are traditionally major investors in Vietnam, such as Japan, the US, the Republic of Korea and Singapore.
 
Vietnamese have invested in nine newly-licensed projects in the US, mainly focusing in the real estate, hotel, tourism and seafood processing sectors.
 
Vietnamese businesses have taken advantage of the economic crisis to buy hotels, tourism areas and office buildings in the US at good prices.
 
In other notable projects, the Vietnam Machinery Assembly Corporation (LILAMA) is investing in construction in the United Arab Emirates. The project will employ skilled Vietnamese workers and could help more Vietnamese enter the potentially very lucrative market.
 
Vietnam Multimedia Corporation has also established its business in Indonesia after successfully developing online game services in South Korea.
 
According to several experts from the ministry, although the size of most of the overseas services projects is small, worth around USD1 million each, the possibility of service exports through bidding, purchase and merger activities is opening up opportunities for Vietnamese businesses to reap higher added values in some foreign markets.
 
The ministry has predicted a boom in Vietnamese investment projects overseas, in both new markets and traditional destinations, over the next 5-10 years.
According to ministry statistics, in 2009, Vietnam's total overseas investment capital reached a record of USD7.73 billion, allocated in 51 countries and territories worldwide.