The Foreign Investment Agency under the Ministry of Planning and Investment has reported that Vietnamese enterprises had poured a record high amount of over US$1.264 billion in 16 projects abroad in the first two months of this year.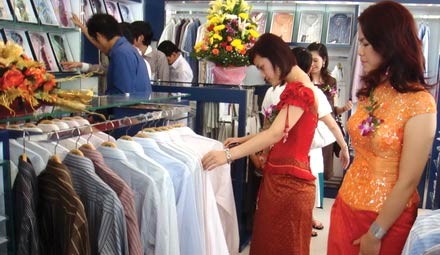 Viet Tien shop in Phnom Penh, Cambodia. Viet Tien Garmant Company is one of Vietnam's most popular makers of shirts and men's attire (Photo: Tuoi Tre)
Among the 16 projects, the three largest projects that deal in production, power and water supply, have a total registered capital of over US$1.2 billion.
 
The total registered investment was only about US$300 million lower than the capital amount of foreign direct investment (FDI) pumped into Vietnam in the same period.
 
The average investment in a project in the first two months was around US$79 million, while the average investment of an FDI project in the same period was only US$14.6 million.
 
According to the agency, Vietnamese enterprises' overseas investments in the first two months grew by roughly 93 times compared to the first 10 years since the beginning of "waves" for investments abroad.
 
The agency said that total overseas investments in the entire period of 1990-2005 was equal to about 58 percent of the registered capital of the first two months of this year.
 
By the end of February 2011, Vietnamese businesses had invested a total of US$23.7 billion in 575 projects in 55 countries and territories, with over US$10 billion coming from Vietnamese investors.
 
Earlier this month, the Vietnam-Laos joint stock company (Song Da Corporation holds controlling shares in this company) started a hydroelectric plant project in Xekaman Sanxay District in Attapeu Province, Laos.
 
The 322 MW hydroelectric project has a total and fully Vietnamese investment capital of US$441 million.
 
This is the largest power project of this scale by Vietnam in Laos so far.