The Hoang Anh Gia Lai Joint Stock Company (HAG) disclosed on October 5 that approximately 100 apartments had been subscribed by customers after only two days of their announcement to sell condominiums at the Thanh Binh complex at discount rates.
This is the second time since 2009 that HAG has launched a discount sale of apartments at very low rates. In 2009, the investors offered a discount of 40 percent, from US$2,300 per sq meter to $1,350 per sq meter at the Hoang Anh River View complex.
Other projects implemented by HAG were also forced to sell at discounted rates last year, namely, the An Tien project dropped 20 percent to sell at VND14.1 million per square meter; and the Hoang Anh River View project fell to VND18.1 million per square meter.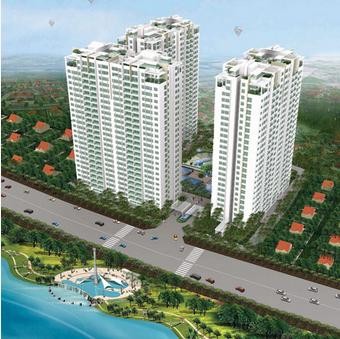 Hoàng Anh River View Apartment in 37 Nguyễn Văn Hưởng, Thảo Điền ward, district 2 (Photo: Internet)
Similar discount rates were offered in Phu Hoang Anh, Hoang Anh Gia Lai 3 with prices much lower than original sale price set by investors.
Moreover, on October 3, HAG put up a new apartment project in HCMC's District 7 for sale at prices that were 30 to 50 percent lower than those of similar projects in the area.
The Hoang Anh Thanh Binh condo project consists of three blocks of around 1,000 apartments of two bedrooms each over 73 square meters.
In addition to the discount, customers who buy a Thanh Binh condominium will also enjoy flexible payment methods.
"Customers have to pay 30 percent of the contract value in advance, 40 percent in the next 30 months, and 25 percent when receiving the apartment," one customer told reporters, adding that the remaining 5 percent will be cleared when the apartment possession is handed over to the buyer.
Buyers will also be able to borrow 70 percent of the first payment amount or 30 percent of the contract value, without proof of income.
Meanwhile, HAG continues to deny that they are dumping the apartments on the market.
"HAG did not slash prices out of financial difficulties," chairman Doan Nguyen Duc told reporters, rejecting dumping accusations.
The selling price was calculated based on the current realty market and customers' financial ability, the chairman confirmed.
Le Hung, Director of Housing Development Corporation under HAG, said that the investors' discount is good for the market, but also good for themselves. "Moreover, we accept that we will gain lower profits but will also be able to quickly recycle investment, instead of waiting for prices to recover," he added.
However, other real estate investors do not agree. Vo Thuy Anh, Deputy Director General of Novaland Company, owner of Sunrise City project said, "When HAG announced their discount prices nearby, we naturally were affected. Psychological comparison from customers is inevitable. An apartment at the Thanh Binh project is now available at VND20 million a square meter, a very low rate."
"It is impossible for apartment prices to remain as high as they were during prime market years ago," she said.
Le Quoc Duy, Director of Hoa Binh Real Estate Trading Company, said, "Some clients who are negotiating to buy Hoa Binh apartments stopped the purchase after news of HAG's offer."
It has become trendy for property firms in Hanoi and Ho Chi Minh City to slash apartment prices by up to one third in the hope of recovering some of the investment in these troubled times.
It is clear that, the Vietnam real estate market is entering the fierce competition period, said Vo Thuy Anh, this was the time of "strong screening", while real US based estate market research firm Savills warned that "the market is abolishing all investors of financial incapacity. ".