The Vietnam Food Association (VFA) on October 27 said the country's rice exports this year have reached six million tons thanks to rising demand in Africa and the Middle East.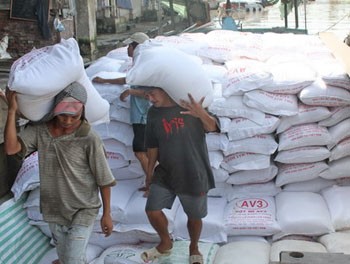 Rice is loaded for export in the Mekong Delta Province of Tien Giang (Photo: Tuoi Tre)
Vietnam exported 1.4 million tons of rice to Africa in the first nine months of 2009, a 98 percent increase year on year. Rice exports to the Middle East rose 65 percent to 250,000 tons.
In addition, the Philippines, the world's largest rice importer, has begun importing the grain early as its rice production is likely to be lower in the aftermath of devastating typhoons Ketsana and Parma.
Besides a contract to import 250,000 tons of rice, which will be signed early next month, the Philippines will likely sign another contract before the year's end.
According to the VFA, the amount of rice contracted for export was 5.8 million tons by the end of September, of which nearly 5 million tons were exported, up 39.97 percent year on year.
Rice export is expected to reach 1.2 million tons in the last quarter of the year, VFA said.