Vietnam expects to make over US$3 billion from rubber exports in 2011, because of rising global demand.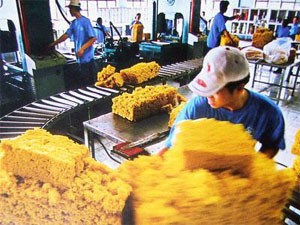 Workers make rubber at a factory in Vietnam (File)
According to the Ministry of Agriculture and Rural Development, the world demand for rubber is about 25.5 million tons this year.
This increasing demand comes mainly from China and India who are very large auto tire manufacturing countries.
Rubber exports to China account for 70 percent of the country's total rubber exports.
Vietnam is continuing to boost rubber exports to Malaysia and Hong Kong.
This year's domestic rubber production will increase by 4 percent over last year to 790,000 tons as the rubber plantation area has increased by 40,000 hectares.
The country earned US$774 million from exporting over 173,000 tons of rubber in the first quarter of this year, a year-on-year increase of 40 percent in volume and 135 percent in value.