Last year, the country's seafood industry failed to achieve the export target of US$6.5 billion, and this year too, the industry is preparing to face even tougher challenges--with difficulties mounting up.
Despite a slump in demand from Vietnam's traditional markets such as the EU, the US, and Japan, many seafood producers still received orders to deliver by end of first quarter of this year. Among these, Bianfishco signed 40 contracts to export seafood to the US and is expected to bring in revenues upto $90 million.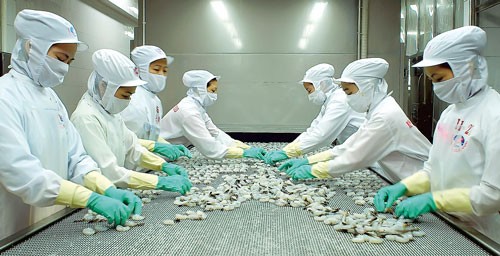 Workers process shrimps at Minh Phu Seafood Corp. (Photo: SGGP)
However, not every seafood producer can confidently sign big contracts like Bianfishco. Avoiding big contracts and receiving smaller ones has become a reality in the country's seafood industry as exporters worry they will not be able to fulfill the contract due to capital shortage.
Duong Ngoc Minh, chairman of Freshwater Fish Committee under the Vietnam Association of Seafood Exporters and Producers, shared that a shortage of capital and unstable input material are currently tricky problems for most enterprises in the seafood sector.
Receiving smaller export contracts is a solution to avert losses. According to a company in Can Tho City, in order to compete with rivals from Thailand, India, and Indonesia, Vietnamese seafood producers had to lower prices continually. With output price dropping while input overheads climbing, firms suffer bigger losses, Minh said.
It is expected that the cost for producing seafood will escalate by about 30 percent. The association had asked the Government for capital at favorable interest rates to help seafood producers, but until now it remains a matter of controversy.
Of late, the association has proposed extending credit limits for 20 leading pangasius exporters. These companies currently account for more than 60 percent of total seafood export turnover of Vietnam and most of them own breeding farms so they are able to ensure material source as well.
Owning breeding farms seems to be the right solution for seafood exporters, however, most firms found it difficult to maintain operations at their breeding farms, mainly because of a financial crunch.
Besides lacking capital, firms also worry about the instability of material source because the country has not developed seafood source sustainably.
Shortage of material had been a persistent issue of the seafood industry for several years, but in the past three years, it has become more serious as more seafood breeders stopped farming due to losses.
In 2012, firms failed to achieve export targets for shrimps because of a deficiency of material as shrimps died enmasse from unknown reasons. If this situation prolongs, it will cause a bad effect to seafood exports this year.
Hence, authorities should start a project for material source as soon as possible to help seafood producers and exporters. Because there is no such project, seafood breeders and exporters have been managing for themselves. So it is not a surprise if they drop their business when they can handle it no longer. Up to now, about 30 percent of seafood companies have announced bankruptcy and nearly 50 percent of them in great despair, while the numbers of breeders who quit raising seafood   were plenty.
There was an opinion that at first small breeders should associate with each other and comply with regulations on seafood breeding to prevent diseases as well as use of banned medicines to breed seafood.
In particular, the Government should help breeders' access loans at favorable interest rates. According to the Directorate of Fisheries, the industry will need VND301 billion for further development.
This year and following years, the Government should take action to decrease the number of bankrupt companies, raise profits for businesses, and help the country's seafood industry to maintain its position as the fourth largest seafood exporter in the world.