A 68-level skyscraper currently under construction in Ho Chi Minh City will be inaugurated this October as the country's tallest high-rise, providing more office space in the southern economic hub, the building owner said Thursday.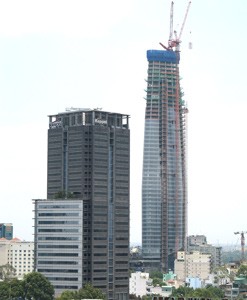 This photo, taken on April 15, 2010, shows the Bitexco Financial Tower with a shape of a lotus bud in Ho Chi Minh City's District 1. The grey building seen next to it is Saigon Center. (Photo: Tuong Thuy)
The Bitexco Financial Tower, with a shape of a lotus bud, is situated in a prime location in the city's center, just a few steps from the Saigon River bank in District 1. Besides the 68 floors above ground, the structure will include three basements for parking.
Bitexco CEO Vu Quang Hoi said at a press briefing in the city Thursday that construction has reached to the 56th floor, and work on the last floor would be finished in June for October's grand opening.
Work on the 270-meter-high high-rise started five years ago. The structured was designed by American architect Carlos Zapata, who said he had been inspired by lotus, Vietnam's typical flower, for his work.
The main contractor in construction is Hyundai of South Korea.
Hoi said US$270 million has been poured into the project. Once open, the skyscraper would provide 38,000 square meters of office space, and 8,000 square meters for retail space in six floors.
He added a 40-meter-long helicopter pad would be installed in the next two months on the 50th floor, which is about 190 meters high. This floor will serve helicopter landing.
The chief officer of Bitexco (Binh Minh Import Export Production and Trade Co.) said the 47th floor is designed as a public observation deck for tourists to catch a panorama of the city. The 47th and 48th floors will be home to food and drink areas.
The skyscraper is designed for standing earthquakes, said William Faschan, partner from consulting engineering firm Leslie E. Robertson Associates. He added international safety standards and fire fighting requirements were also included. All floors will be equipped with an automatic fire fighting system.
The lotus bud-shaped skyscraper will lease out Grade A offices with rents starting from US$45 per square meter, according to the exclusive leasing agent, Colliers International.
Ho Chi Minh City's districts 1 and 3 house various buildings with offices for rent.
Average office rent at all grades in the city and Hanoi continued falling in the first quarter of this year and is expected to continue the downtrend in the coming time because of abundant supply in the market, according to market research companies.
Savills Vietnam released a quarterly report on Tuesday, saying the city's average office rent at all grades and in all districts in the first quarter fell 3% from the previous quarter and 11% year-on-year. The office market recorded an average rent of US$61 per square meter for Grade A, $29 for Grade B and $22 for Grade C.
The report said Grade B still holds a strong preference for both new entrants and existing tenants in the southern economic hub.