The Trans-Pacific Partnership (TPP) is hoped to bring more opportunities for Vietnam's textile and garment sector in expanding markets and export, however, enterprises and policy-makers must quickly remove current obstacles as well as have synchronous measures.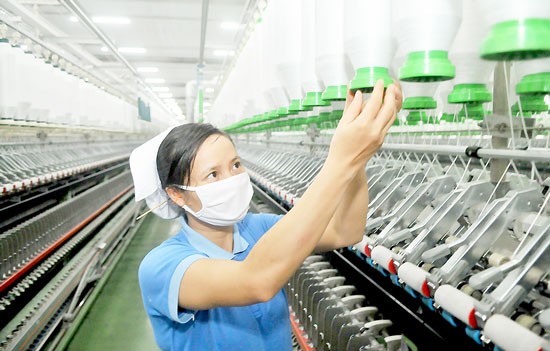 (Photo: SGGP)
According to the Vietnam Textile and Apparel Association (VITAS)'s figure, turnover of textile and garment reached US$27 billion in 2015 yet the value of import was quite great and the sector still imported much Chinese commodities.

After Vietnam joins the TPP, the tax will be gradually reduced to 0%. With the original rules encouraging the use of the materials from the TPP block, in the long term, Vietnam will invest in the production of materials, specifically fibers and dyes. Importantly, the textile and garment industry will have more opportunities to build an auxiliary sector for itself.

When Vietnam becomes a TPP member, it will be in the same block with the United States and the American consumers will get benefits because Vietnamese garment exports will enjoy a preferential tax rate. The current problem is that the textile and garment industry of Vietnam still largely depends on imported materials and accessories.

VITAS Deputy Chairwoman of the Vietnam Textile and Apparel Association (Vitas) Dang Phuong Dung said that Vietnam had not exploited much on tax incentive.
Moreover, most common challenges in the sector are market, technique and waste treatment methodologies. In addition, local governments of the southern provinces of Vung Tau, Dong Nai and Binh Duong refused to open door for foreign textile enterprises though Vietnam is trying to attract foreign direct investment (FDI).

Furthermore, Vietnamese textile companies should increase its value by paying more attention to design because many fashion shows have been held individually showing a loose combination between textile companies and designers.  Most of all, enterprises should focus on building its brand names and developing distribution networks.

Meantime, KPMG Vietnam Company Deputy General Director Nguyen Cong Ai said that most Vietnamese textile companies do outwork (processing) following overseas companies' orders hence to get low profits.

Meanwhile TPP requires textile companies themselves make production materials not import commodities from nations which are not TPPs members. Currently, domestically-made materials just meet 40-50 percent of the demand.

Chairman of Garmex Sai Gon Company's Managing Board Le Quang Hung said that as per the international organizations, Vietnamese textile and garment will reach US$30 billion by 2010 and US$50 billion by 2050 only when material suppliers can develop equally.

He stressed the need of incentives for those operating in the supporting industry or else the above-mentioned forecast will not come true. In addition, the investment in supporting industry will help enterprises to increase competitiveness and actively control production quality. The government can help by asking related agencies to analyze products for export from which to forecast demand of every material for future manufacturing, said Mr. Hung.