Vietnam has led the Southeast Asia in wood exports and been listed in the world's top ten exporters after 15 years, when the country's export turnover was barely tens of millions of US dollar per year compared to billions of US dollar in Indonesia, Malaysia and Thailand.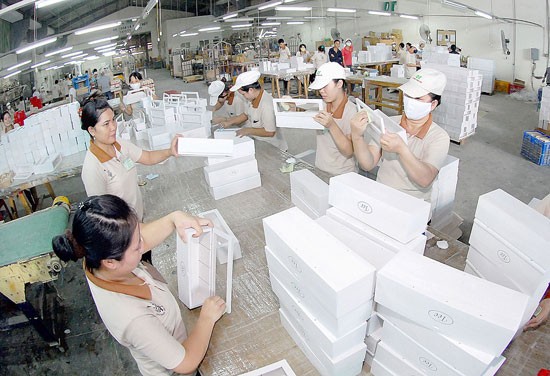 Production of wooden furniture for exports at Duc Thanh Wood Processing Company (Photo: SGGP)
Vietnam's wood export turnover grew 19 percent and touched US$5.7 billion last year and is expected to hit $6.5 billion this year, approaching the $10 billion target feasible by 2020.
Mr. Nguyen Chien Thang, former chairman of the Handicraft and Wood Industry Association of Ho Chi Minh City (HAWA), said that Indonesia, Malaysia and Thailand have been far behind Vietnam in wood exports while Laos and Cambodia have not built wood processing industry yet.
The wood processing industry has high labor productivity with each worker creating US$18,300 per year. It is $13,900 in footwear, $8,900 in seafood and $7,100 in garment and textile.
Development of the wood processing industry has boosted support industries like wood glue, colored oil, metal materials, dunnage and sandpaper with annual turnover exceeding $1.7 billion. Import materials account for 30 percent.
According to the Vietnam Chamber of Commerce and Industry, wood processing is one of ten industries bringing highest export turnover and significantly contributing in the country's Gross Domestic Product.
Its potential is a very large with international competitiveness and diversified market, according to a World Bank's report on Vietnam's light industry.
In 2013, the world consumed US$400 billion wood products. Vietnam's export turnover accounts for only 1.2 percent of this number reaching 5.7 billion.
The HCMC Handicraft and Wood Industry Association (HAWA) chairman Nguyen Quoc Khanh said that Vietnam had a lot of opportunities for the wood processing industry. Besides export markets of 120 countries, Vietnam itself has a 90 million people domestic market with each citizen spending at least $21 on wooden furniture per year.
If the domestic market is well exploited, domestic turnover might reach $2 billion a year.

Hawa has sent a proposal to Prime Minister Nguyen Tan Dung to make wood processing to be one of key economic industries and map out development policies in this field, targeting at US$20 billion annual export turnover.
Support industries for the wood processing should be looked into and afforestation should be stepped up to reduce import of raw wood, according to the proposal.