Vietnam-Russia Oil and Gas Joint Venture (Vietsovpetro) hosted a ceremony to mark 35 years of establishment and 30 years of the first crude oil ton exploitation in the southern province of Ba Ria-Vung Tau yesterday.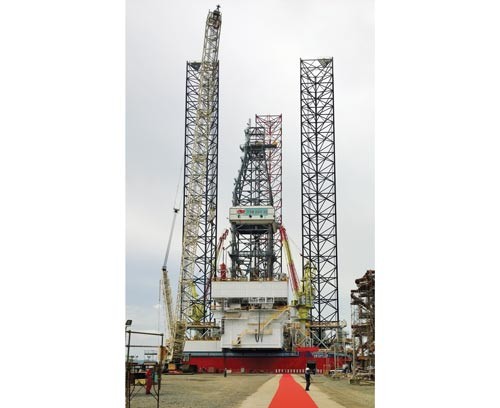 Tam Dao 05 jack-up rig at PV Shipyard (Photo: SGGP)
Attending the ceremony were former Prime Minister Nguyen Tan Dung, Vice President Dang Thi Ngoc Thinh and Deputy Prime Minister Trinh Dinh Dung.
Stating at the event, Vietsovpetro director general Tu Thanh Nghia reported that the company has drilled over 220 million tons of crude oil yielding the total revenue of US$74 million for the last 35 years. Nearly $47 billion in profit and tax has gone to Vietnam and $11 billion in profit to Russia.
Vietsovpetro has trained a staff of management officials, high level engineers and skilled workers in many fields including exploratory design, construction design, operation and oil and gas exploitation.
On this occasion, Vietsovpetro was awarded the third-class Military Cross of the Vietnamese President. Many teams and individuals of the joint venture also received Vietnam's Labor Medals and certificates of merit of the Russian President.

On the same day, a ceremony was hosted to launch and hand over Tam Dao 05 jack-up rig from PetroVietnam Marine Shipyard JSC (PV Shipyard) to Vietsovpetro in Vung Tau city.