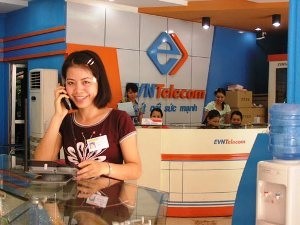 Undated file photo shows an EVN Telecom service office
The Vietnamese Government has agreed in principle that cash-trapped EVN Telecom be transferred to the Viettel Corporation, according to a Ministry of Information and Communications source.
A Government Office statement sent to the ministry says State-run Viettel will take over EVN Telecom as of Jan. 1, 2012, the source said.
Between now and that date is the time for the two sides to finalize their take-over issues, including plans to pay debts to the Electricity of Vietnam Group (EVN) and partners, according to the source.
EVN Telecom, a unit of State utility EVN, has reported significant losses and debts due to connection fees and frequency charges.
In October and November, Hanoi Telecom sent proposals to the Government saying it was ready to buy EVN Telecom's 3G broadband and network infrastructure.
In the proposals, Hanoi Telecom said its view is if Viettel is allowed to take over EVN Telecom, it would result in monopoly as Viettel is a leading company in the market, and that would breach the country's Competition Law.
However, Dr. Vu Dinh Anh from the Institute for Research on Markets and Prices, the Ministry of Finance, is of the view that Viettel currently shows "no monopoly" but is "ruling the market." Viettel is now like MobiFone or VinaPhone was before, he says.
Regarding Hanoi Telecom's argument about monopoly, he is of the view that the company needs to reconsider its approach to the business deal.