Vina Kyoei Steel Company held a reality show of using its thread steel bars at the Ho Chi Minh City Polytechnics University on Oct. 6.
Among the participants were construction engineers, building material traders, university lecturers and students at the Polytechnics University.
The show demonstrated how fast and convenient to join Vina Kyoei thread steel bars to make beams and columns, and then join them together.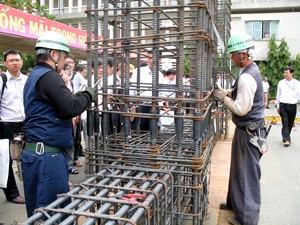 Vina Kyoei Steel workers make a beam and column and join them using the company's thread steel bars at a reality show at Ho Chi Minh City Polytechnics University Oct. 6, 2011. (Photo: Tuong Thuy)
Thread steel bar, or reinforcement steel bar, is steel with its transversal ribs re-arranged to the thread pattern. The thread is formed during the hot rolling process.
Thread steel bars are easily connected by couplers, as demonstrated. Another advantage is they make a much longer bar similar to a continuous reinforcement bar.
Thread steel bars could be used to make beams, columns, beam-column combinations, and piles, said Vina Kyoei Steel director of manufacturing Osamu Narumi.
Dr. Thai Ba Chu, head of Vietnam Institute for Building Science and Technology, gave a presentation on different methods to join steel bars. He said among the methods, using couplers to join thread bar is a new method that includes many advantages like easy to apply, able to apply in bad weather conditions, and fast to install structures.
Vina Kyoei Steel was established in January 1994 as a joint venture company between Kyoei Steel Ltd., Mitsui & Co., Ltd. and Itochu Corporation in Japan, and Vietnam Steel Corporation in Vietnam. Its factory is located in Phu My Industrial Zone in Ba Ria-Vung Tau Province, about 80 kilometers, southeast of Ho Chi Minh City.

Thread steel bar is a new product the joint venture has just marketed.