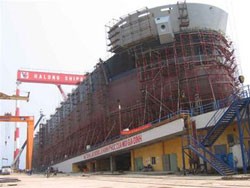 Florence waits for the launch day at Ha Long Shipyard
Ha Long Shipyard in northern Viet Nam is about to deliver a 53,000-ton ship to Britain's Graig Group, an international ship owning and shipping services group.
The Florence ship, worth US$26.5 million, will be launched on April 6, 2006 at the shipyard. It is part of Graig's fifteen-ship order in Viet Nam for modern-design bulk carriers at Viet Nam Shipbuilding Industry Corporation (Vinashin) yards.
Florence, the biggest ship ever built in Viet Nam, is 190-meter long and 32-meter wide, equipped with four cranes able to lift 36 tons of cargo each and fresh-water producing system with a capacity of 20 tons per hour.
The Graig group is a major client of State-run Vinashin, which is investing heavily in yard capacity to build to modern bulk carriers but with good prices and attractive delivery dates.
Related Link:
Graig Group